Brazil Butt Lift Results: This Former Gymnast Toned Up and Won $500 in the Beachbody Challenge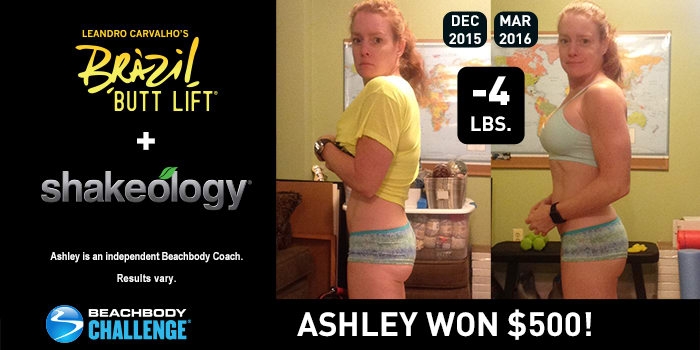 Ashley Jordan lost 4 lbs. and firmed up with Brazil Butt Lift and Shakeology. She entered her results into the Beachbody Challenge, and won the $500 Daily Prize for May 20th!
Tell us about your life before you started the program. How did you feel about yourself and your body?
I have always been very athletic. I was a competitive gymnast for almost two decades, so I have always been focused on what my body looks like. Thanksgiving of 2014 I hit my highest weight. Although I was at a weight that most people still envied, it was a wake-up call for me that I needed to do something about it. I have been on a personal journey for the past few years that has been mostly getting my emotions and spirituality in check. It seemed like the right time to get there physically as well. I have never really monitored what I ate because, in general, I am a healthy eater. I exercised irregularly since I left the sport of gymnastics in 1997. I would go hard for six months then get bored of it and quit for about the same time. I have never enjoyed going to a gym and was not motivated to drive anywhere to exercise.
What inspired you to change your life and begin your transformation journey?
My boyfriend has been a great inspiration for me throughout my entire journey. He has a home gym and has been into fitness his whole life. He has been sidelined by injuries for the better part of the last two years, but always does what he can to get some exercise in. We planned a trip to Jamaica in April of 2015 and decided we were going to get fit for our bathing suits. I saw an ad for Body Beast on a patient's television one day at work, and it caught my attention. He had heard positive things as well, so we purchased it and committed together. I began to use an app on my phone to calculate my caloric intake and monitor my calorie burn with a heart rate monitor. I began to make healthier eating choices and take my lunch to work. I eventually also purchased PiYo, because I have loved yoga in the past. So my program was based in Body Beast with PiYo and Zumba as supplemental workouts on days I could go longer. The more results I got, the harder I worked!
What is the greatest challenge you faced before beginning the program? How did the program and Beachbody help you overcome that challenge?
My greatest challenges before the program were staying committed to an exercise program and being cognizant of what I put in my body. The Beachbody programs are very motivational. I want to keep going. I want to feel better, perform better, push my limits, and see better results. I have a couple of old friends that are Coaches with Beachbody, and their social media posts kept me more engaged. Having an exercise program that is laid out, regimented, and presented in a manner that can be modified makes all the difference in the world. I did not start Shakeology until about a month ago. I was using an organic protein mix previously and felt good with that. I have been trying to focus more on my diet now that I have reached my exercise goal I set previously. The response you get from friends, family, and strangers is absolutely, immeasurably motivating! Everyone should feel so good!
What in particular did you like about the program you chose?
I loved that Brazil Butt Lift definitely focused on glutes, but was pleasantly surprised that the program overall was a full-body workout. Leandro makes it fun and something to look forward to!
Describe the results you achieved with your Beachbody program. Which achievements are you proud of?
I am proud that I maintained my weight and that I do see some lift in my butt. My thighs are a little bigger but I know it's muscle, because they are so much stronger. Interestingly, my arms are actually the most cut they've ever been, which is a testament to the fact that this program works out the whole body.
How has your life changed since completing your Beachbody program?
I am more wholly motivated. Exercise is now part of my daily routine, and my food choices are getting better. I am much more confident. I have become a Beachbody Coach, which may or may not be financially productive, but it is motivationally productive. I have been able to now sign two Coaches underneath me that have the same passion to help others as I do. I have made contacts with new people that are as enthusiastic as I am and regained old friendships in the process. For the first time in a long time, people now comment on how energetic, engaged, and positive I am, which is something I work on daily. I feel like I'm contributing to the greater good.
How did participating in a Challenge Group help you reach your goals? How did your group support you and keep you accountable?
Challenge Groups are a great way to stay motivated, share recipes, talk through difficult times, and meet others. Checking in daily is a no-brainer for me as a Coach, but I know others are checking in even if they aren't posting. It's wonderful to have a support network of people that may be having similar feelings or pushing through the same program.
How did a Beachbody supplement, nutritional product, or program (such as Shakeology or Beachbody Ultimate Reset) support your transformation? What are the greatest benefits you gained? Did you see benefits to your energy, sleep, mood/mental clarity, or digestion/regularity?
Shakeology has helped me move past my plateaus, increase my energy, and keep my bowels regular.† It's been a slow uptake for me, but I'm all in now!
You can change your life, too. Take the Beachbody Challenge for the tools you need to Decide, Commit, and Succeed! Complete any Beachbody program, and enter your results for a free gift and a chance to win cash and prizes.

Results vary depending on starting point, goals, and effort.
†These statements have not been evaluated by the Food and Drug Administration. This product is not intended to diagnose, treat, cure, or prevent any disease.