Transformation Tuesday: Serena Lost 8 Pounds With Brazil Butt Lift!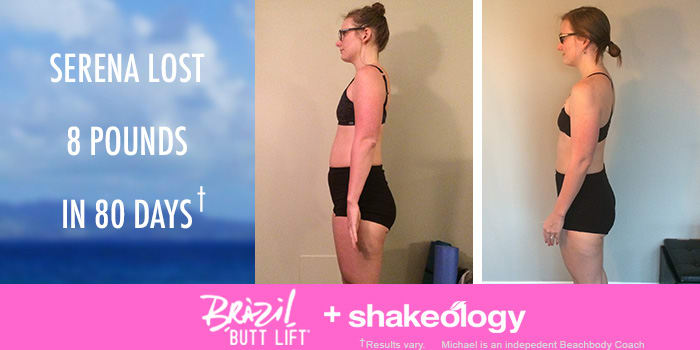 Serena was unhappy with the shape of her booty and wanted to tone and strengthen her body. She decided to try Brazil Butt Lift and saw amazing results! She lost 8 pounds and 9.75 inches in 80 days and got the toning she was looking for. Read about her experience here:
"I was preparing for my upcoming wedding. I had seen Brazil Butt Lift advertisements from my other Beachbody program's DVDs and was interested. My butt has always been relatively large and pear-shaped, and my goals were to reduce my saddlebags and make my butt more rounded and lifted. I wanted to do a dance cardio program because I knew it would push me out of my comfort zone, and this sounded like exactly what I needed.
My favorite part of Brazil Butt Lift was the dance workouts, which I had never done before. I liked them because Leandro encouraged me to love my body and to be myself. That made me feel more relaxed, and I was able to give 100% with my form and effort.
The program targeted my booty because every workout included booty moves. I liked that this program combined strength moves with dance cardio and that it wasn't entirely one or the other. I enjoyed using equipment I'm not as used to, like pilates resistance bands and ankle weights. I think the TriAngle Training really worked because I noticed getting stronger each time, and I was able to increase my ankle weights.
Leandro is my favorite trainer so far! I love his positive attitude and that he takes the time to explain proper form, which I feel led to better results. He also taught me positive self-talk, and he was an absolute joy to work with.
I definitely saw booty results! My butt became lifted, and I lost inches from my thighs. I loved seeing this because I knew that this wasn't associated with my bloating. The most surprising result I saw was my abs getting stronger and more noticeable. I am so happy! My spouse comments on how perky my booty looks now, and my mother has commented on how slim I'm looking. People say that I'm glowing and look happier, and this is the best compliment of all!"
†Results vary depending on starting point and effort.
---
You can change your life, too. Take the Beachbody Challenge for the tools you need to Decide, Commit, and Succeed! Complete any Beachbody program, and enter your results for a free gift and a chance to win cash and prizes. What program are you committing to next?