Crush Your Fitness Goals With Val Gutu's Bodyweight Bootcamp
For those of you who prefer your workouts short, simple, and effective, military-style "bootcamp" training is a fitness favorite.
By combining strength and cardio — sometimes in the same workout — and requiring minimal (if any) equipment, bootcamp workouts can put almost anyone on the fast track to their fitness goals.
And when done consistently, they can deliver impressive results.
That said, not all boot camp workouts are built the same.
By way of proof, we recommend you check out Valeriu Gutu's Bodyweight Bootcamp program.
These bodyweight-only routines, directly inspired by Val's military training, are designed to work your entire body in just 25 minutes a day.
The workouts are creative and constantly challenging. You make progress — and keep building on it — and that's what keeps you coming back.
Bodyweight Bootcamp with Val Gutu is now available on Beachbody On Demand (now BODi).
Anyone with a BODi membership is welcome to join his workouts!
Who Is Valeriu Gutu?
Growing up in Europe, and raised within an athletic military family, Val discovered a love for physical fitness at a young age.
His passion was — and is — to set personal goals and exceed them.
He's competed as an extreme sports athlete and professional soccer player, and today is much in demand as a personal trainer for both his motivational skills and his metabolic, body-shredding techniques.
Val's training in the military taught him that each of us, with the right commitment, has the power to create the best version of ourselves.
By consistently challenging our bodies with a balanced fitness routine – along with a healthy diet and lifestyle — we can reach and exceed our personal goals.
Not simply by building physical power and endurance, but by developing the mental strength and discipline that turns effort into results.
In Bodyweight Bootcamp, he brings that same mental focus to home workouts.
"I really feel like I'm interacting with the people at home through the camera," Val says. "In my mind's eye, I see them right there in the room with me… I see their faces, I can tell when they're feeling challenged, and I love that because then I know they're making progress. That's what it's all about!"
What Can I Expect From Val Gutu's Workouts?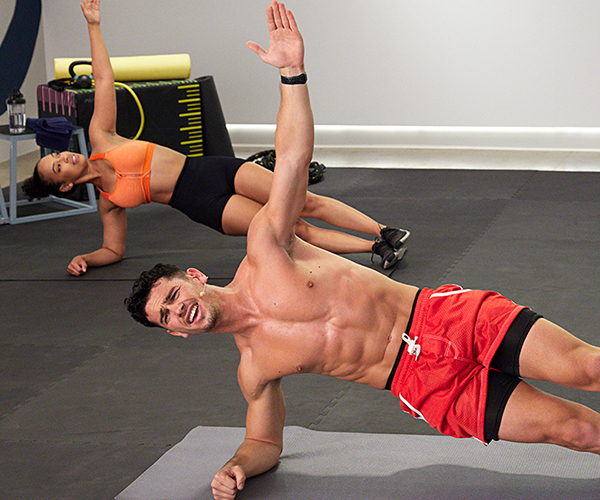 Val's four-week program is made up of 10 workouts that are 25 minutes each.
There are four high-energy functional HIIT classes designed to maximize your calorie burn, three bodyweight-strength routines for building lean muscle, and three sessions focused on strengthening the abs, core, and posterior chain.
You'll be working along with Val and his on-camera castmates as, together, you learn and master the moves.
There's always a modifier for every exercise, so you can start working hard from day one, no matter what your fitness level is to start with.
Looking to stay motivated and accountable to your goals?
Download the calendar here for an easy way to stay on track with the workouts.