BODi Special Event Classes for November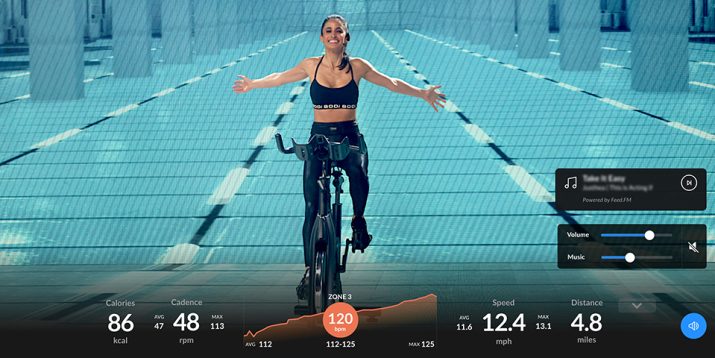 Every month, BODi — Beachbody On Demand Interactive — features live Special Event Classes with different themes led by your favorite Beachbody Super Trainers and instructors.
This month, you can get your workout groove on with Andrea Rogers, Megan Davies, Jennifer Jacobs, and Autumn Calabrese!
So, don't miss out: Mark your calendars, round up your BODi Squad, and start sweating!
Pro tip: Come back every month and find out what new classes we have in store.
November Featured Live Classes
Here the featured LIVE classes this month:
XB Sweat + Sculpt with Andrea Rogers — November 3, 6am ET / 3am PT
Maverick Ride with Jennifer Jacobs — November 11, 6am ET / 3am PT
Sure Thing Sample Workout with Megan Davies — November 14, 9am ET / 6am PT
Breakaway Ride with Idalis Velazquez — November 16, 7am ET / 4am PT
And don't miss Healthy Obsession with Autumn Calabrese! 
Healthy Obsession is a fresh take on Autumn's 80 Day Obsession program: Get ready to sculpt your core, lift your booty, and get your ultimate sweat on in just 3 weeks!
October Featured Live Classes
Get psyched for Halloween on BODi!
Dress up and join our spook-tacular classes on October 31 led by Super Trainer Jericho McMatthews plus two mystery trainers!
BODi Block: October 3 – 21
Choose 1 of 3 blocks — BURN, BUILD, or RIDE — to complete 5 workouts every week for 3 weeks. Get a free t-shirt* and earn the chance to win up to $100,000 with the Beachbody Challenge.
And check out our other live classes this month:
XB Sweat & Sculpt with Andrea Rogers — October 4, 10am ET / 7am PT
Job 1 Sweat Session with Jennifer Jacobs — October 6, 8am ET / 5a PT
10 Rounds with Joel Freeman — October 17 & 19, 9am ET / 6am PT
INSANITY MAX: 30 with Shaun T — October 18, 12pm ET/ 9am PT
*While supplies last. All dates and times are subject to change without notice. You must have a BODi membership in order to access classes, recipes, and meal plans. Need a membership? Visit BODi.com.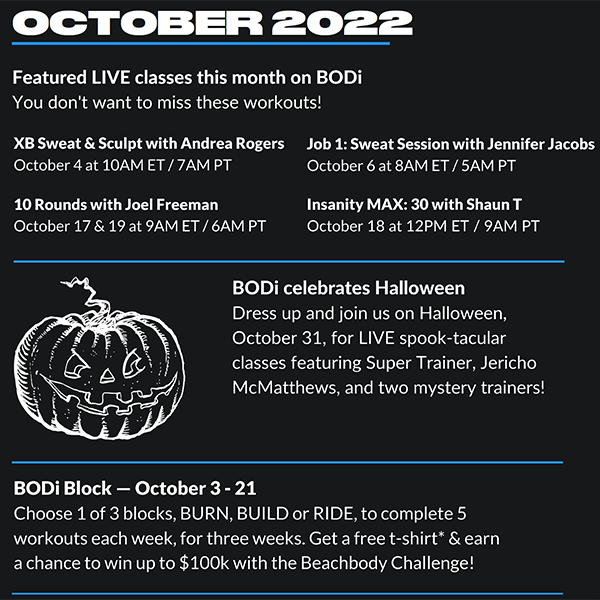 September Featured Live Classes
Mark your calendars: The Tour De Pants starts Monday, September 5th! During this month's BODi Block, you'll be working out consistently five days a week for three weeks.
4 Weeks for Every Body live workout with Autumn Calabrese — September 12, 12 PM ET / 9 AM PT
Live Classes with Andrea Rogers — September 19 – 22
Autumn's Birthday Mashup — September 23
LIIFT Week with Joel Freeman — September 26 – 30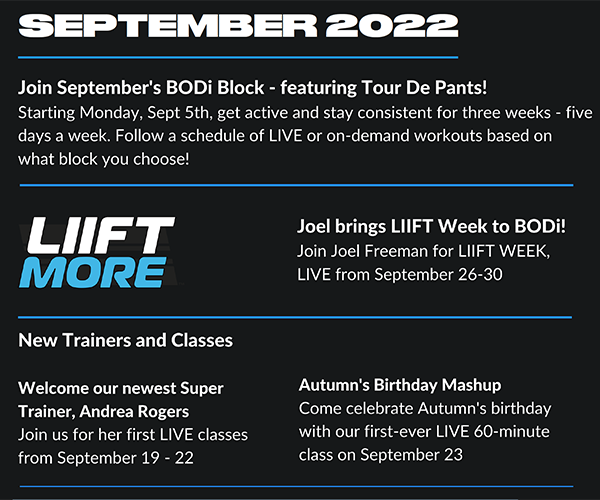 August Featured Live Classes
Set your alarms — live BODi classes are now starting at 6 AM ET / 3 AM PT! Now you can start crushing your goals as soon as you wake up and set the tone for your day.
LIIFT MORE with Joel Freeman — August 15, 7 AM ET / 4 AM PT
INSANITY MAX:30 with Shaun T — August 29, 1 PM ET / 10 AM PT
Four new trainers just joined BODi, so come by and check out their new classes!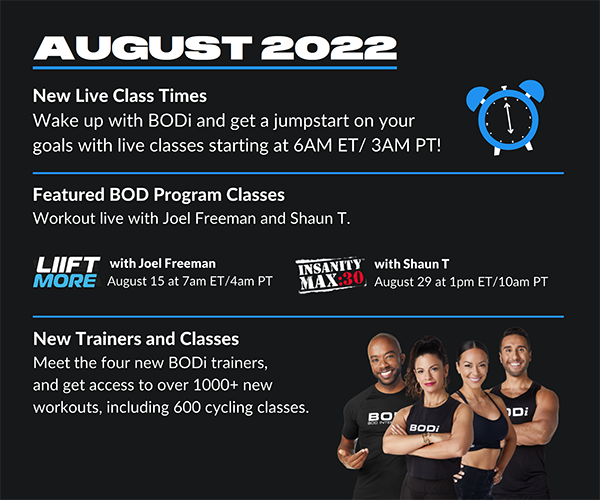 July Featured Live Classes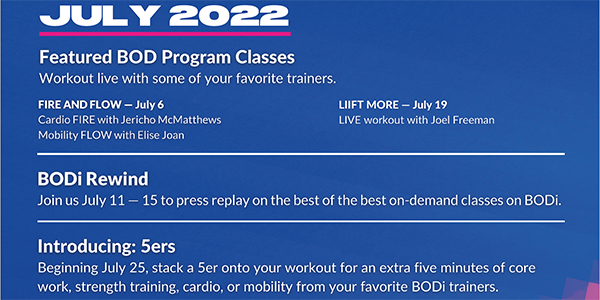 FIRE AND FLOW — July 6
Cardio FIRE with Jericho McMatthews – 1PM ET / 10AM PT
Mobility FLOW with Elise Joan – 2PM ET / 11AM PT
LIIFT MORE with Joel Freeman – 1PM ET / 10AM PT
June Featured Live Classes
Dance Cardio with Jenny Jaucian, June 6 at 2PM ET / 11AM PT
#MBF Core Circuit with Megan Davies, June 6 at 5PM ET / 2PM PT
FIRE AND FLOW + Talk Back with Elise and Jericho, June 8 at 1PM ET / 10AM PT
Job 1 Start Strong with Jennifer Jacobs, June 13 at 5PM ET / 2PM PT
FIRE AND FLOW Ride with Elise and Jericho, June 17 at 1PM ET / 10AM PT
Dance Cardio with Jenn Padilla, June 29 at 3PM ET / 12PM PT
Pride Rides
Pride Ride: Love is Love with Jared Sklar, June 3 at 1PM ET / 10AM PT
Pride Ride: Just be You! with Eric Thomson, June 10 at 3PM ET / 12pm PT
Pride Ride: Love Yourself with Jenny Jaucian, June 16 at 1PM ET / 10AM PT
Pride Ride: Choose Love with Taliah Mekki, June 22 at 1PM ET / 10AM PT