Beachbody Results: This Mother of Two Lost 95 Pounds!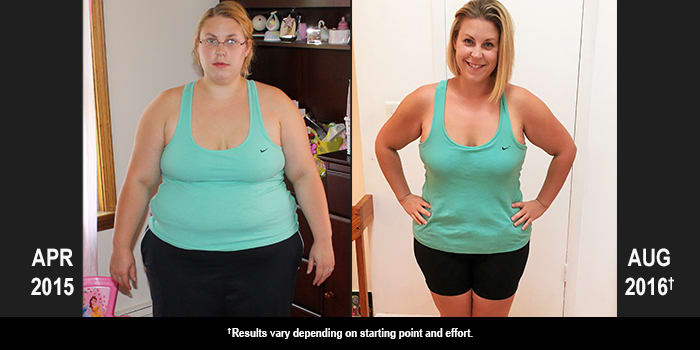 Carissa Melay lost 95 lbs. with Turbo Jam, TurboFire, CIZE, and BOD. She entered her results into the Beachbody Challenge, and won the $500 Daily Prize for October 11th!
Tell us about your life before you started the program. How did you feel about yourself and your body?
I was a mom of two young kids and never made myself a priority. I let myself go, and I felt depressed because of it. I would never do my hair or makeup, or wear more than yoga pants, because I never saw a point in trying to make myself look nice. I couldn't hide how big I had let myself get, so why would I? I was tired all the time and never had enough energy to play with my kids.
What inspired you to change your life and begin your transformation journey?
My mother died in her sleep at the age of 52. She also never took care of her health and always put me and my brother first. She had undiagnosed hypertension, which contributed to her death. I'll never forget the day I went for my physical and my blood pressure was sky high. My doctor told me if I didn't lose weight, I would need to go on blood pressure medications. I was 29 years old with a 2- and 4-year-old. I was following in my mom's footsteps. Right then and there, I decided my children would not lose their mother at a young age like I did. I would do anything and everything I could do to lose weight and get healthy. I pulled out my old DVDs of Turbo Jam and I never looked back.
What is the greatest challenge you faced before beginning the program? How did the program and Beachbody help you overcome that challenge?
Any mom with young kids knows the biggest challenge when working out is finding the time! Packing up my kids and going to the gym was not an option for me. The Beachbody programs offer a way to work out at home, with your kids, and when it's convenient for you. I also get bored of workouts really quickly. I like how Beachbody offers so many different program options, which keep me wanting to work out.
What in particular did you like about the program you chose?
I love to dance; it's fun. Both of the programs I used the most, TurboFire and CIZE, involved dancing. They made me want to get my workout in because I enjoyed doing it.
Describe the results you achieved with your Beachbody program. Which achievements are you proud of?
The biggest result is the amount of weight I have lost. I'm doing another round of TurboFire now, and I am expecting to reach my 100-pound weight-loss milestone. I'm incredibly proud of that!
How has your life changed since completing your Beachbody program?
My whole life is different. The physical aspect of it is great. I get compliments all the time, I can wear what I want, and I feel so much better about my body. But the greatest change for me has been my health. My blood pressure is down, my cholesterol is healthy, and my energy levels are through the roof. I can play with my kids and do things I wouldn't have done when before I lost the weight. I love being able to show them how important exercise is. With Beachbody, you work out from home, so they watch me and I lead by example.
How did participating in a Challenge Group help you reach your goals? How did your group support you and keep you accountable?
I really like the accountability the Challenge Groups bring. Posting pictures of your workouts or Shakeology made me want to make better choices. I also enjoyed swapping tips and recipes!
How did a Beachbody supplement, nutritional product, or program (such as Shakeology or Beachbody Ultimate Reset) support your transformation? What are the greatest benefits you gained? Did you see benefits to your energy, sleep, mood/mental clarity, or digestion/regularity?
I used Shakeology for breakfast. It helped to keep me full and give me energy!
You can change your life, too. Take the Beachbody Challenge for the tools you need to Decide, Commit, and Succeed! Complete any Beachbody program, and enter your results for a free gift and a chance to win cash and prizes. What program are you committing to next?

†Results vary depending on starting point and effort.