Beachbody Results: Mom of Two Lost 59 Pounds and Won $1,000!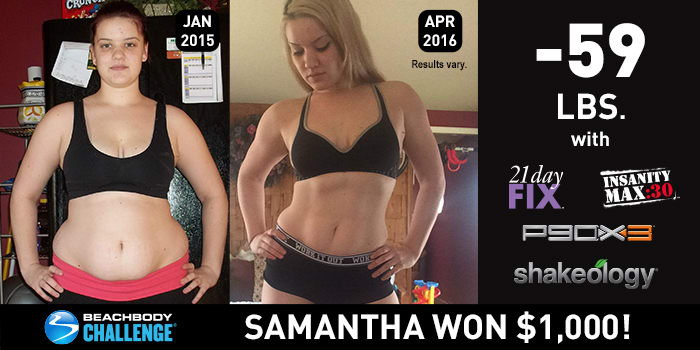 Samantha Carroll, age 24, lost 59 lbs with 21 Day Fix, INSANITY MAX:30, P90X3, and Shakeology. She entered her results into The Beachbody Challenge and won $1,000!
Tell us about your life before you started the program. How did you feel about yourself and your body?
I had just given birth to my second son six weeks before starting the 21 Day Fix program. This was my second baby in two years! I used my pregnancies as an excuse to eat anything and everything I wanted. I sat around for nine months straight with my second pregnancy munching on junk food and soda. With the first I was working a very physically demanding job up until eight months but still eating a lot of bad things! After having my 2nd son, it was incredibly hard for me to look at my body in the mirror. I lost over 20 lbs after delivery and was left with all the excess weight from my junk food eating. It was not pretty! I'm only 23 years old and I found myself daydreaming about my pre-pregnancy body. Tall, lean, and 140 lbs! Would I ever see that body again? I am so young, will I be stuck like this forever? While I was and still am overjoyed to be a mother to two beautiful baby boys, I was depressed with what I let happen to my once beautiful body. It was much more than a few stretch marks.
What inspired you to change your life and begin your transformation journey?
My wonderful Coach Maura Kivlin inspired me to begin this journey. She was a former co-worker of mine at a local nursing home. Being her friend on Facebook, I had seen her transformation and I couldn't help but be inspired. She gave birth around the same time as I did with my first son, and she was in phenomenal shape! I had to know how she did it. So I contacted her while still pregnant with my second son and told her I would be joining as soon as I was finished with the pregnancy! She added me to her Facebook accountability group, Team Reformers, at the start of my program and the outpouring of inspiration and motivation within that group is truly amazing. I owe all of my success to everyone in that group for keeping me focused and motivated on what I and everyone there was looking to accomplish. They are wonderful people!
What is the greatest challenge you faced before beginning the program? How did the program and Beachbody® help you overcome that challenge?
My greatest challenge was the simple fact that, I never stick with anything. I'll try something for a few days, maybe and week, and decide it's too hard, too time consuming or some other excuse and quit. That was not the case with the 21 Day Fix. For the first time in my life, I stuck with a program and finished it! Once again, my Coach's accountability group was the key to me sticking with this and staying motivated! I knew I had people counting on me and expecting results! Not to mention, the eating plan for the program is wonderful. Never did I go hungry or feel deprived. I've learned so much about nutrition and clean eating and I get super excited to find recipes that are not only good for you but taste phenomenal! Why should healthy have to taste bad? Fast forward over a one year after my first round of the 21 Day Fix and I'm in the best shape of my life after six rounds of 21DF, two rounds of INSANITY:Max:30, and I'm on my last month of P90X3 now!
What in particular did you like about the program you chose?
The meal plan was a pleasant surprise for me. I was happy to see how many different options I had and how much I could have of each container. It really inspired me to hunt down great recipes to get the best out of each container group and incorporate them all into endless meal possibilities!
Describe the results you achieved with your Beachbody program. Which achievements are you proud of?
I've lost over 50 lbs and a whole lot of inches. However, just as much as I love how my body is changing, I am super proud of the sheer fact that I finished these programs from start to finish and I'm still at it over a year later! This is a first for me and it has really boosted my self esteem.
How has your life changed since completing your Beachbody program?
I have so much more confidence, I am happier, I have more energy to play with my kids and I feel better. I never realized how my eating habits were making me feel like a slug; tired, depressed, lazy and so on. I now feel like I can take on the world these days!
How did participating in a Challenge Group help you reach your goals? How did your group support you and keep you accountable?
All of the support from my friends in the group made it so much easier to feel proud of the hard work I was putting in! It truly kept me accountable knowing I had a responsibility as part of the group to do what I was supposed to be doing. Workout everyday, follow the meal plan, and engage with the rest of the group!
How did your Team Beachbody® Coach support you on your journey?
Maura Kivlin is simply wonderful! She is so inspirational and really takes the time to pay personal attention to all her Reformers! She is a wonderful Beachbody Coach and I would absolutely recommend her as a Coach to anyone looking to start a Beachbody program!
How did a Beachbody Supplement or Nutritional Product or Program (such as Shakeology® or Beachbody Ultimate Reset®) support your transformation? What are the greatest benefits you gained? Did you see benefits to your energy, sleep, mood/mental clarity, digestion/regularity?
Shakeology has been a game changer for me! I wasn't able to start using it until a few months ago. I was stuck at a plateau for months on the scale. My body was changing but the scale stopped moving. The scale has finally started moving again and I know it's because of Shakeology. It tastes great and I feel great knowing that I'm putting amazing super-foods into my body every single day!
You can change your life, too. Take the Beachbody Challenge for the tools you need to Decide, Commit, and Succeed! Complete any Beachbody program, and enter your results for a free gift and a chance to win cash and prizes.

Results vary depending on starting point, goals, and effort.