Beachbody Results: Janina Lost 25 Pounds with MAX:30 and T25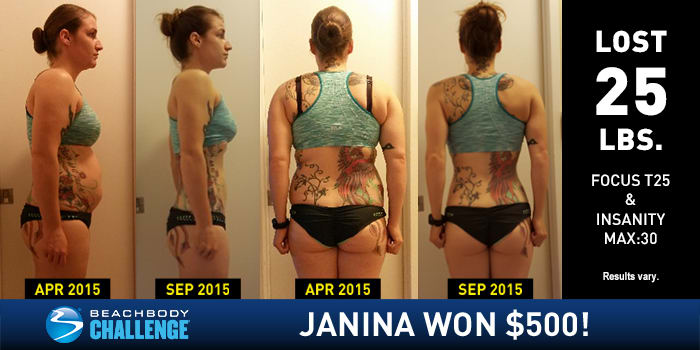 Janina Felka-Burns lost 25 lbs. in 60 days of INSANITY MAX:30 and 10 weeks of FOCUS T25. She entered her results into the Beachbody Challenge, and won the $500 Daily Prize for February 9th!
Tell us about your life before you started the program. How did you feel about yourself and your body?
We had just moved to a new place in a new state. I felt depressed, sluggish, and demotivated. I let myself go, and the result was a weight gain of nearly 30 pounds.
What inspired you to change your life and begin your transformation journey?
One day, I took a long, hard look in the mirror and realized what I had become. This wasn't me in the mirror; it was a stranger. I started to do some research to see what programs were out there for me to do at home (I was embarrassed to go to the gym). That's how I found Beachbody!
What is the greatest challenge you faced before beginning the program? How did the program and Beachbody help you overcome that challenge?
The greatest challenges for me were definitely my mindset and lack of motivation. Somehow, I forgot how to motivate myself to even leave the house. As soon as I started MAX:30, I remembered something important: "False motivation is better than no motivation." So I forced myself to "fake" being motivated to work out, and soon I wasn't faking it anymore. I wanted to push play. I was mentally ready to do this. I felt myself change, mentally, physically, and emotionally. Finally, I was rewarded with the end result of losing so many inches and feeling great! I wanted more. I jumped into T25, and gave it my all. I lost even more weight, and my confidence grew exponentially.
What in particular did you like about the program you chose?
I loved the challenge and the motivation. I also loved the detailed nutrition plan.
Describe the results you achieved with your Beachbody program. Which achievements are you proud of?
I feel healthier and look healthier. I lost weight and many inches. But I am most proud of finding myself again!
How has your life changed since completing your Beachbody program?
I am more active. I leave the house again without feeling like everyone is looking at me (because I got so chubby). I am much happier, and even got my husband motivated to start working out with me.
How did your Team Beachbody Coach support you on your journey?
Although Kelley was going through a lot of changes in her life as well, when I needed it, she was there for me! I always knew I could count on her to listen, or just get me back on track.
How did a Beachbody supplement, nutritional product, or program (such as Shakeology or Beachbody Ultimate Reset) support your transformation? What are the greatest benefits you gained? Did you see benefits to your energy, sleep, mood/mental clarity, ordigestion/regularity?
I didn't use any supplements during my 60 days of MAX:30, but followed the nutrition/eating plan to a T (well, most days). With all the fresh products I used to cook and eat, I had way more energy all day and I slept better at night. Once I started T25, I also started Shakeology and took additional vitamins. They all helped me with staying on track.
You can change your life, too. Take the Beachbody Challenge for the tools you need to Decide, Commit, and Succeed! Complete any Beachbody program, and enter your results for a free gift and a chance to win cash and prizes.

*Results vary depending on starting point, goals, and effort.