Beachbody Results: Janice Lost 45 Pounds and Won $1,000
Janice Humbarger, age 50, lost 45 lbs with a variety of Beachbody fitness programs, Shakeology, and the Beachbody Performance supplements. She entered her results into Beachbody Challenge and won $1,000!
Tell us about your life before you started the program. How did you feel about yourself and your body?
Before Beachbody I was not happy with the way I looked. I wore clothes that were frumpy and hid the rolls. I didn't really care what I wore because nothing looked good anyway.
What inspired you to change your life and begin your transformation journey?
When I started Beachbody products in June 2015 I wasn't really committed yet, just going to "try it out". But, once I got started I realized how much better I felt and I wanted to show my daughter and everyone that it is great to take care of yourself and feel so full of energy. With each program I complete I feel stronger, healthier and ready for the next challenge. Body Beast has been great at helping me push past my weaknesses. Instead of thinking " I can never do that" I think "I am going to master that, let's do this!"
What is the greatest challenge you faced before beginning the program? How did the program and Beachbody® help you overcome that challenge?
My greatest challenge when I started Body Beast was trusting food. I learn more everyday. "trust the process" I am always told. I eat so much food and yet I still lose weight and gain muscle. Who wouldn't love that.
What in particular did you like about the program you chose?
I love that every single time I do one of the workouts it is different for me because I am getting stronger, increasing weights and feeling a new challenge each and every time. Sagi really knows how to push me.
Describe the results you achieved with your Beachbody program. Which achievements are you proud of?
I have toned up all over. And I can actually see muscles. But, my greatest achievement is watching my family and friends be inspired by my hard work and want to improve their own lives. What can be better than that?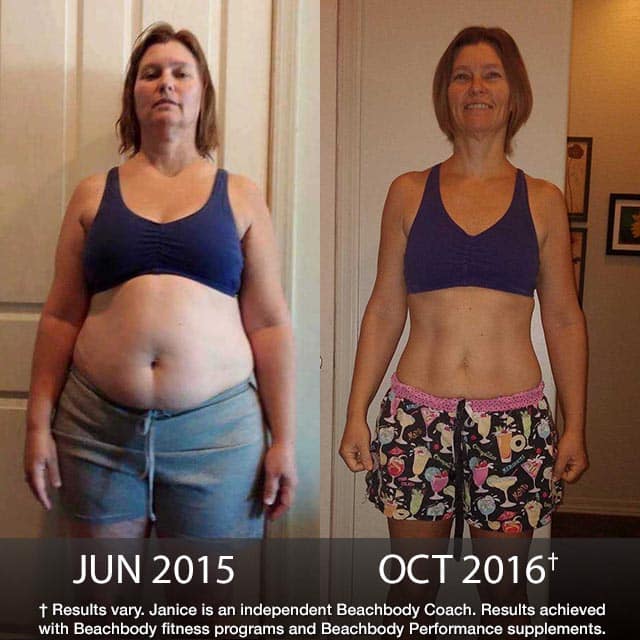 How has your life changed since completing your Beachbody program?
It isn't even the same life. I don't recognize the person I used to be. I love to workout and eat healthy. I actually like looking in the mirror now. I look forward to the next challenge and what it will bring. Thank you Beachbody for caring so much about me and my health.
How did participating in a Challenge Group help you reach your goals? How did your group support you and keep you accountable?
The Challenge Groups were a huge part of my success. Everyone posted pics of their journey and of food they are eating. I love all the food. I was never much for food before. But I love all the recipes that are shared and the team members are so awesome. We get to see each others struggles and push through them together. The My challenge tracker is great. I always wanted to make sure I logged my Shakeology and workouts so I could see that little box checked off. The Healthbet in September was a true bonus. To get paid for something I was already doing just made it that much more fun.
How did your Team Beachbody® Coach support you on your journey?
Vicky has been a part of these Challenge Groups and is always there to remind us what a great job we are doing. It's also kinda fun to push her along toward her goals as well.
How did a Beachbody Supplement or Nutritional Product or Program (such as Shakeology® or Beachbody Ultimate Reset®) support your transformation? What are the greatest benefits you gained? Did you see benefits to your energy, sleep, mood/mental clarity, digestion/regularity?
I am a 365er with Shakeology. I have noticed that since I started Shakeology I feel energized.2 I look forward to it every morning. I love the Performance line as well. Using Energize and Hydrate to help push through the workouts everyday but, I look forward to Recover after my workout the most. It is super delicious and it's nice not to wake up wanting to die after a hard workout.
Tell us about your experience with Beachbody On Demand. If applicable, how has it helped you achieve your goals?
Body Beast is the first program I have completed through BOD. It's great to know I have a workout option no matter where I'm at. I even got to do some of the other workouts while squeezed into a hotel room. CIZE was quite fun to do in between 2 double beds. LoL.
You can change your life, too. Take the Beachbody Challenge for the tools you need to Decide, Commit, and Succeed! Complete any Beachbody program, and enter your results for a free gift and a chance to win cash and prizes. What program are you committing to next?

†Results vary depending on starting point, goals, and effort.
2These statements have not been evaluated by the Food and Drug Administration. This product is not intended to diagnose, treat, cure, or prevent any disease.