Beachbody Results: Dave Lost 24 Pounds and Won $500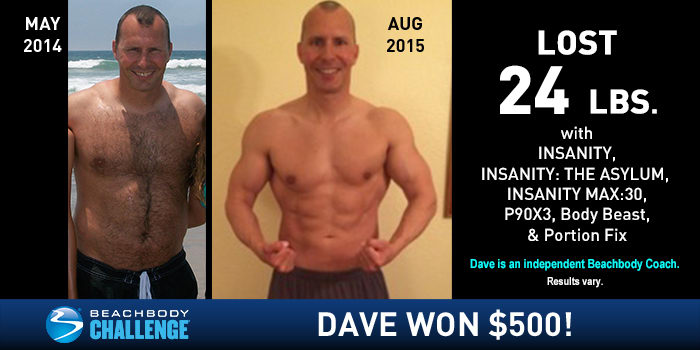 Dave Eadie lost 24 lbs. with INSANITY, INSANITY: THE ASYLUM, INSANITY MAX:30, P90X3, Body Beast, and the 21 Day Fix meal plan. He entered his results into the Beachbody Challenge, and won the $500 Daily Prize for February 12th!
Dave is an independent Beachbody Coach.
Tell us about your life before you started the program. How did you feel about yourself and your body?
I have always been an active person. I played sports in high school and college. I joined the U.S. Marine Corps after college, and served on active duty for eight years. After separating from the military, I became a police officer. As I was transitioning from my Marine Corps career to my law enforcement career, I became a father. I continued to work out and stay active during my early years as a police officer and father to two young children, but started to slow down a bit as the years went on. My diet has always been relatively healthy, but as my activity level decreased, my appetite and portion sizes remained the same. After a few years of slowing the intensity of my workouts and gradually increasing the amount of unhealthy food I consumed, I began to notice changes in my physique as my clothes became tighter. I used the greater demand of my time at work and numerous family commitments as an excuse to get into the worse shape I have ever been in.
What inspired you to change your life and begin your transformation journey?
I knew I was putting on some extra weight, but when I saw our pictures from a recent vacation, I knew a change was in order.
What is the greatest challenge you faced before beginning the program? How did the program and Beachbody help you overcome that challenge?
The greatest challenges were finding the motivation to stick with a program despite my busy work and family schedule, and giving up some of my favorite snacks. Beachbody gave me my life as I knew it back to me. As I have become older, my priorities have shifted slightly away from my day revolving around me and a workout. Beachbody gave me the inspiration and guidance that I needed to stay on track to accomplish my goal. Following diligently along with the daily workout routine and diet, I went from 210 pounds to 185 pounds. But just as important as the 25 pounds I shed off was the overall change in my body composition. Beachbody changed my flabby 210 pounds into a muscular 185 pounds. Over the course of the last year, I used INSANITY, ASYLUM, MAX:30, P90X3, and Body Beast. Within just a few months, co-workers wanted to know what I was doing, because they quickly saw the change in my body as well. It has been life-altering to say the least.
What in particular did you like about the program you chose?
The programs I used packed a lot of workout into a short amount of time. The Instructors were motivating, and kept the workouts intense. The diets that accompanied the workouts were easy to follow and effective.
Describe the results you achieved with your Beachbody program. Which achievements are you proud of?
I went from 210 pounds down to 185 pounds within a few months. Co-workers noticed within just a few weeks that my body composition had changed. I am most proud of the way Beachbody has changed my lifestyle. I eat healthy and make time for my workout without excuses. Like the video says before the beginning of my Body Beast workouts: "Exercise only works if you do it."
How has your life changed since completing your Beachbody program?
Beachbody increased my quality of life in all aspects. I feel better at work and at home. My relationships have improved as I feel physically and mentally rejuvenated. Simply amazing.
How did your Team Beachbody Coach support you on your journey?
My Beachbody Coach is also my wife. She prepared all my meals, ensured I never ran out of supplements, printed out my necessary workout sheets, and kept me motivated.
How did a Beachbody supplement, nutritional product, or program (such as Shakeology or Beachbody Ultimate Reset) support your transformation? What are the greatest benefits you gained? Did you see benefits to your energy, sleep, mood/mental clarity, or digestion/regularity?
I used Shakeology from the time I began doing the Beachbody workouts. It tasted great and made me feel awesome. I noticed an increase in energy from the time I began using it. While working out with Body Beast, I also used Super Suma, the Base Shake, Fuel Shot, and Creatine. I never felt rundown throughout the entire three-month program as I have before with other resistance-training programs. I felt that I maximized my recovery with the use of these supplements.
Did you achieve any other measurable improvements with a Beachbody supplement, nutritional product, or program (e.g. blood pressure, blood sugar, triglycerides, etc.)?
I never had any of my vitals checked during the program. But I can tell you that I have never felt better in my life.
You can change your life, too. Take the Beachbody Challenge for the tools you need to Decide, Commit, and Succeed! Complete any Beachbody program, and enter your results for a free gift and a chance to win cash and prizes.

*Results vary depending on starting point, goals, and effort.