Not Your Momma's Chocolate Mousse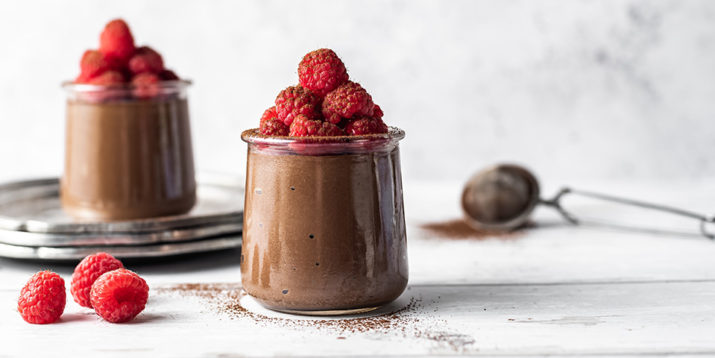 Get ready for a trip down memory lane with this delicious chocolate mousse recipe!
If you're old enough to remember eating chocolate pudding cups as a treat when you were a kid, you'll love this recipe.
Not Your Momma's Chocolate Mousse elevates your childhood favorite into a grown-up snack (it's "mousse," not pudding, thank you very much) and adds a twist — two scoops of Beachbody Chocolate Recover.
It's creamy, cold, and chocolate-y with just a hint of sweetness.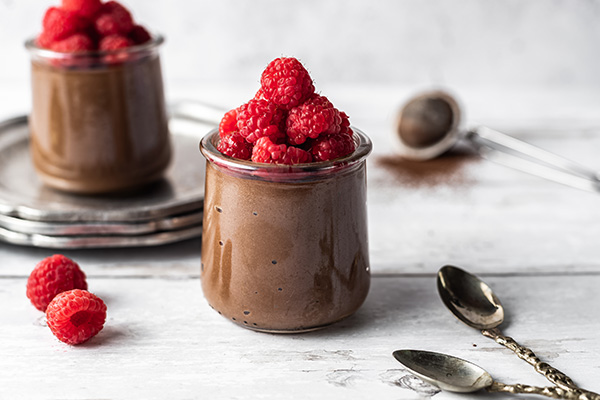 Not Your Momma's Chocolate Mousse
This delectable chocolate mousse is made with a surprise ingredient — Beachbody Performance Recover!
Prep Time 10 mins
Cook Time 2 mins
Total Time 4 hrs 10 mins
Servings 2 servings, approx. 1¼ cups each
Calories 253 kcal
Ingredients
1¼ tsp. unflavored gelatin
¼ cup cold water, divided use
2 scoops Beachbody Chocolate Recover
¾ cup reduced-fat (2%) plain Greek yogurt
1 Tbsp. pure maple syrup
1 cup fresh raspberries (or frozen, thawed)
Instructions
Heat 2 Tbsp. of water in a microwave-safe bowl for 2 minutes, or until water is boiling. Set aside.

Combine gelatin and remaining 2 Tbsp. water in a small mixing bowl; whisk until mixed well. Add hot water, mixing well. Set aside (this will set up the gelatin).

Combine Recover, yogurt, and maple syrup in a large mixing bowl; whisk until soft peaks form, about 4 to 5 minutes by hand.

Whisk in room temperature gelatin mixture into Recover mixture until well incorporated.

Divide mixture evenly between two serving glasses. Cover tightly; refrigerate for at least 30 minutes or up to 4 hours.

Top evenly with raspberries just before serving. Enjoy!

Store refrigerated in an airtight container for up to 24 hours.
Recipe Notes
Notes:
Don't forget, hydration is important post-workout, so enjoy this mousse with a refreshing glass of water.
The Nutrition Facts box below provides estimated nutritional information for this recipe.
Nutrition Facts
Not Your Momma's Chocolate Mousse
Amount Per Serving (1 serving)
Calories 253 Calories from Fat 18
% Daily Value*
Fat 2g3%
Cholesterol 10mg3%
Sodium 342mg15%
Carbohydrates 28g9%
Fiber 4g17%
Sugar 19g21%
Protein 32g64%
* Percent Daily Values are based on a 2000 calorie diet.
Container Equivalents
½ Purple
½ Red
2B Mindset Plate It!
For more information on how to incorporate Beachbody Performance into 2B Mindset, see the "2B Mindset and Exercise" video in the 2B Mindset program materials in Beachbody On Demand.
Love this recipe? You can get more delicious recipes like this (and more!) with the Nutrition+ Membership.
With Nutrition+, you'll get access to The Mindset Membership and The Monthly Fix, continuations of the 2B Mindset and Ultimate Portion Fix nutrition programs that provide monthly support to help you overcome obstacles that stand between you and healthier eating.