Kayla H. Lost 67 Pounds in 13 Months
Kayla lost sight of herself after focusing on everyone and everything besides herself.
But with the help of Beachbody programs, Kayla got fit and healthy and in the process, found herself again.
She used 21 Day Fix, SHIFT SHOP, FOCUS T25, A Little Obsessed, 80 Day Obsession, INSANITY MAX:30, LIIFT4, 2B Mindset to get where she is today; check out her amazing results
Kayla's Life, Before
"I started my journey in August 2017 at 188 pounds. I did not recognize who I had become. I was lost and very uncomfortable in my skin.
I had lost sight of ME! I had allowed myself to be consumed by all the other roles that I play in my life. It was time to get ME back. I am not just a mom, wife, sister, daughter, etc.
I was inspired when I had to do a double-take after getting out of the shower. I seriously thought someone else was in the bathroom with me.
I know then that I had to make some changes."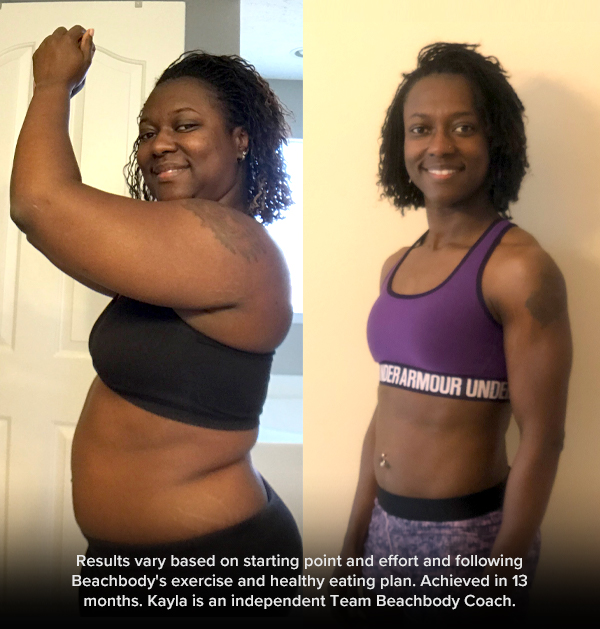 Kayla's Transformation
"80 Day Obsession is my favorite because taught me that I am mentally strong. I stuck to the program exactly and was able to break a lot of "I can't…" habits: "I can't work out for an hour," "I can't get up at 5am every morning," "I can't travel and do this program,"… the list goes on.
All the things that I said "I can't do" — I DID! After I finished 80 Day Obsession, my husband was on board after seeing my dedication.
All the Beachbody programs pushed me past my self-imposed limits. The Super Trainers are super motivating. I felt like they know exactly what I needed to hear and when I needed to hear it.
And I love my Portion-Control Containers. I take them to restaurants with me and use them to re-plate my meals. It gives me confidence that I am controlling my portions and prevents me from overeating. I feel in control of my nutrition when using the containers."
Kayla's Life, After
"I had no idea that I would be gaining more than I was losing. I gained physical and mental self-confidence, re-established my identity, energy, and passion for helping others achieve the same.
I found myself and I am unique and AWESOME.
The biggest change is my confidence — it's contagious and others are noticing it.
My advice? Start now!
This will be the best gift you could ever give yourself. It's OK to be selfish — you're worth it. Your loved ones deserve to receive 100 percent of you and you can't do that if you aren't healthy.
The Beachbody Community that will embrace you while you go through this journey — it's unlike anything I have ever felt!"