WHAT IS BEACHBODY SCIENCE?
Here at Beachbody, our Core Purpose is to help people achieve their goals and enjoy healthy, fulfilling lives.
To do that, we create fitness programs and nutritional supplements that are rooted in science and research, not the latest fads and trends.
Behind every single product is Beachbody Science: a team of highly trained scientists, nutritionists, and dietitians. In addition, we partner with distinguished experts in sports medicine, nutrition, weight management, and food and product safety. We've even gone above and beyond and conducted gold-standard, clinical trials on some of our premium products.
We believe in what we do. We are committed to the highest standards so that people can use Beachbody products with confidence to help transform their lives!

SHAKEOLOGY APPETITE CLINICAL TRIAL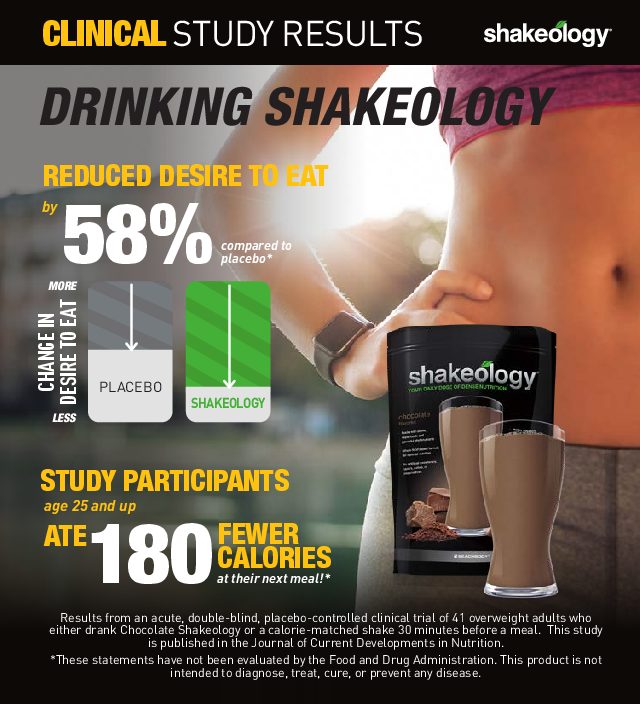 The Goal
This study looked at the acute, or short-term, effects of Shakeology on ratings of appetite, as well as food intake at the next meal in 41 overweight women and men.
Participants came to the testing center in the morning after fasting overnight. They completed a short survey about their appetites, then drank either Shakeology or a calorie-matched shake (a placebo).
For the next 30 minutes, they took three surveys regarding their appetite. Then they were allowed to eat as much pizza as they wanted for 30 minutes until they were full. We used a randomized crossover design so that the same people who got Shakeology on one testing day were given the calorie-matched shake (placebo) on a different day in a random order.
The Results*
The study showed that Shakeology did a much better job decreasing appetite than the placebo. On the rating scales used, Shakeology reduced hunger 51% more and the desire to eat 58% more than the calorie-matched shake.
Feeling less hungry or having lower desire to eat is most beneficial if it helps with controlling food intake. So we also measured the actual calorie intake at the next meal. For all participants, calorie intake tended to be less after Shakeology compared to the placebo.
When we looked at a subset of people in the study that more closely reflect our Shakeology customers (age 25 and older), we found that Shakeology helped these people eat, on average, 180 calories less of the pizza than if they drank the placebo.
Why This Matters 
These findings suggest that it's not just any "calories" that make you feel satisfied since both shakes had the same amount of calories. There's something about the formulation of Shakeology that made participants feel less hungry and control their appetite better at the subsequent meal than if they consumed a less nutrient-dense option (placebo).*
The results of this study were published in the Current Developments in Nutrition (CDN) journal, an American Society for Nutrition (ASN) journal.
ASN is a world-renowned non-profit organization dedicated to bringing together the world's top researchers, clinical nutritionists, and industry leaders to advance the knowledge and application of nutrition. In order for a paper to be accepted for publication in CDN, the research goes through a rigorous and extensive peer-review process.
*These statements have not been evaluated by the Food and Drug Administration. This product is not intended to diagnose, treat, cure, or prevent any disease.
BEACHBODY PERFORMANCE™ ENERGIZE CLINICAL TRIAL
The Goal
This study measured the effects of Beachbody Performance Energize on exercise performance and perceived effort in 13 cyclists using a randomized, double-blind, placebo-controlled, crossover study design.
The same participants completed two testing visits, each separated by at least one week. To minimize interference from prior food and beverage consumption, participants were asked to fast overnight prior to all visits.
During each visit, the participants were assigned to take either two scoops of Energize or a placebo and they:
Rested for 30 minutes
Completed 30 minutes of vigorous steady-state cycling
Completed a 15-minute exercise performance test known as a cycling time trial
During the 30 minutes of steady-state cycling, participants exercised at 80 percent of their VO2 max (i.e., maximum aerobic capacity).
At 10-minute intervals, perceived exertion (i.e., how hard the participants felt they were working) was evaluated using the Borg Rating of Perceived Exertion (RPE) scale.
The scale ranges from six to 20, with six corresponding to little or no effort (e.g., resting comfortably) and 20 corresponding to maximum effort (e.g., sprinting up a steep hill).
Exercise performance was assessed during the cycling time trial, when participants were instructed to cycle as hard as they could for 15 minutes while the researchers recorded their power outputs and total work done.
The Results*
When the study participants consumed Energize 30 minutes before steady-state cycling, their Perceived Exertion was significantly lower than when they consumed the placebo.
In other words, even though they were exercising at the same intensity, they reported that exercise felt easier after consuming Energize.
During the cycling time trial, participants' exercise performance was about five percent greater when they consumed Energize 60 minutes prior to the test than when they consumed the placebo.
In summary, study participants were able to perform more work in the same amount of time when they consumed Energize.
Why This Matters
Collectively, our findings indicate that consuming Beachbody Performance Energize roughly 30 minutes before most workouts (or 60 minutes before short, all-out efforts) can help improve exercise performance, boost power output, increase total work done, and reduce perceived effort.*
It can mean pushing that much harder during our workouts. Exercising harder can simply mean burning more calories, or working more effectively toward reaching your goals.
*These statements have not been evaluated by the Food and Drug Administration. This product is not intended to diagnose, treat, cure, or prevent any disease.
BEACHBODY PERFORMANCE™ RECOVER CLINICAL TRIAL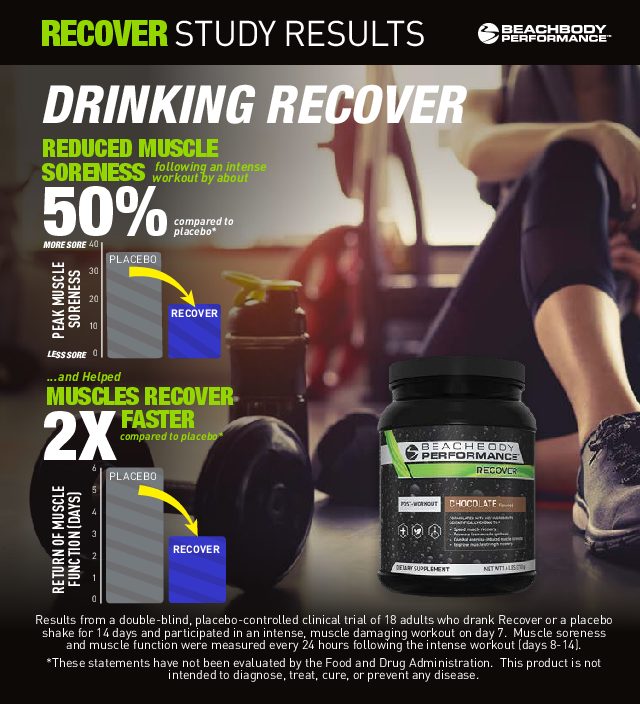 The Goal
This study measured the effects of Beachbody Performance Recover on muscle soreness and recovery of muscle strength and function following intense muscle-damaging exercise in 18 adults using a randomized, double-blind, placebo-controlled study design.
Study participants were randomly assigned to consume either Recover or a taste and calorie-matched placebo for 14 days.  On the 7th day, participants completed an intense workout designed to induce muscle soreness and temporarily reduce muscle strength and function.  During the next seven days of recovery, participants continued to consume Recover or placebo, and muscle soreness, muscle strength, and muscle function were assessed daily.  To minimize potential interference from food and beverage consumption, participants in both groups were provided with the same standardized diet throughout the entirety of their participation in the study.
The Results*
As expected, following intense exercise, muscle soreness increased and muscle strength and function decreased.  In the participants given Recover, post-exercise muscle soreness was reduced by about 50% compared to placebo, and muscle strength and function recovered two times faster compared to those given the placebo. (Muscle function recovered in 3 days in participants using Recover, versus 6 days in participants using the placebo).*
Why This Matters
Studies show that muscle strength and function can be significantly reduced for several days after intense exercise.  That means that even if muscle soreness doesn't delay or prevent you from returning to your workout routine, you might not be getting the most out of your next workout.  Findings from this study show that using Recover can help significantly reduce post-exercise muscle soreness and speed muscle recovery to help keep your fitness goals on track.*
*These statements have not been evaluated by the Food and Drug Administration. This product is not intended to diagnose, treat, cure, or prevent any disease.
SHAKEOLOGY, DAILY SUNSHINE, BEACHBARS ARE LOW GLYCEMIC INDEX

What is Glycemic Index, how is it tested, and why does it matter?
Glycemic index (GI) is a value given to foods containing carbohydrates according to the degree to which they raise blood sugar (glucose) levels.  Foods are ranked on a scale from 0 to 100 based on how they compare to a pure glucose beverage given a GI value of 100.
Foods with a high GI are those which are rapidly digested, absorbed, and metabolized and result in larger fluctuations in blood sugar. Low GI foods are digested, absorbed and metabolized more slowly and cause a lower and slower rise in blood glucose. A food is considered low GI if it is 55 or less; high GI if 70 or more, and mid-range GI if 56 to 69.
For more information, please visit: glycemicindex.com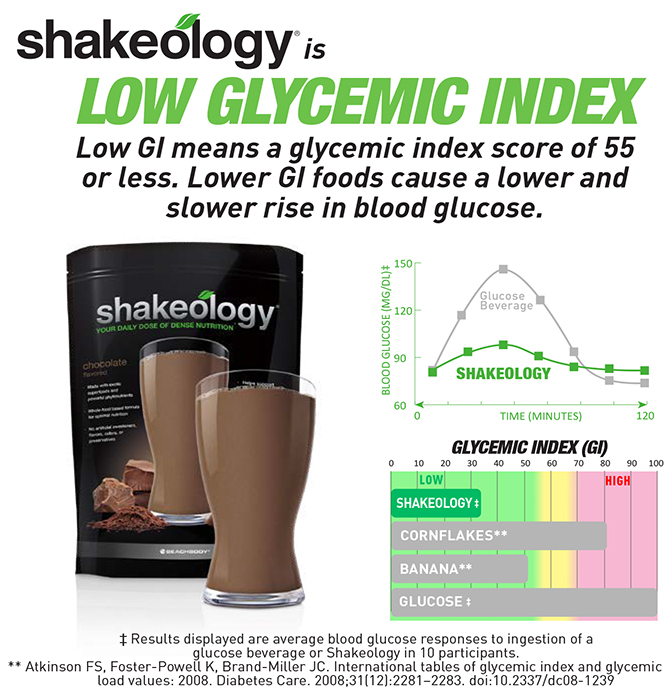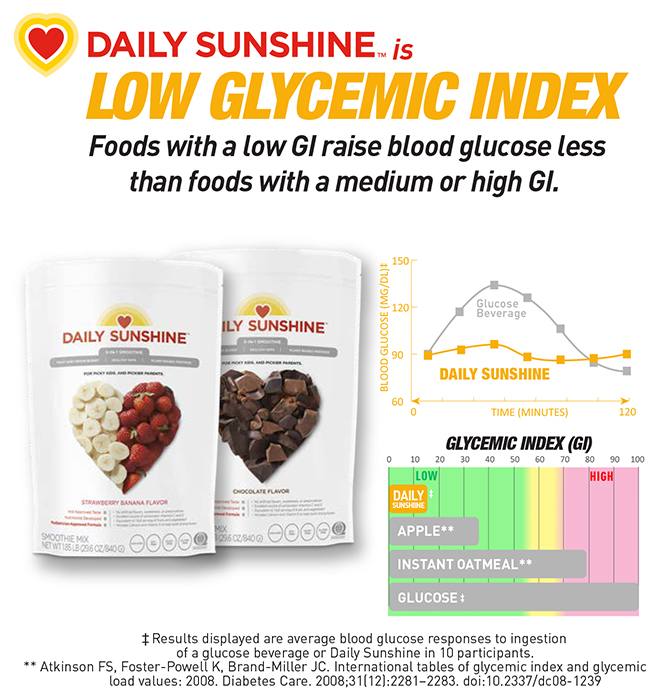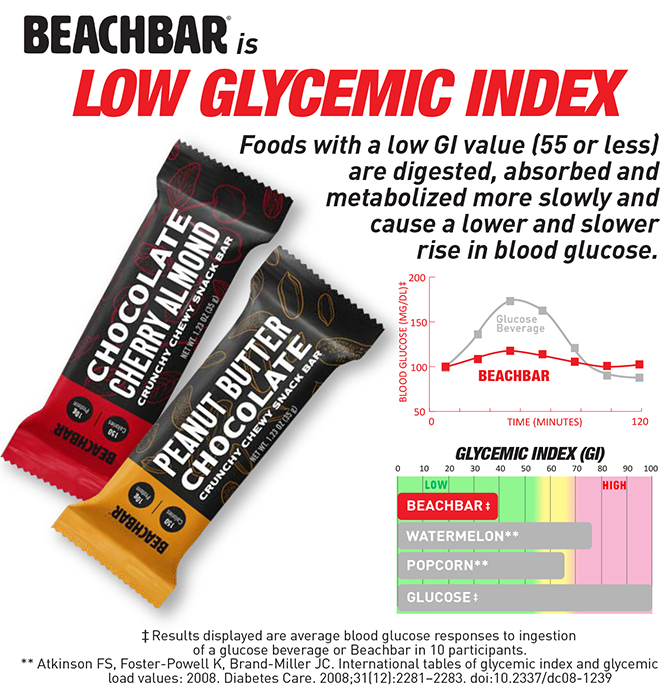 BEACHBODY EXPERTS
Beachbody Experts, along with the Beachbody Scientific Advisory Board, provide scientific leadership for Beachbody's clinical trials, scientific review, substantiation of ingredients, and new product innovation. We possess a broad range of experience in basic, applied, and clinical sciences, and nutrition research. We also collaborate with subject-matter experts in various fields that relate to health and fitness.
Emily Pankow Fritz, Ph.D., M.B.A.
Vice President, Scientific Affairs
Background:
Doctor of Philosophy, (Ph.D.), South Dakota State University
ACSM Certified Exercise Physiologist (EP-C)
Member, American College of Sports Medicine (ACSM)
Board of Editors, Journal of Nutrition Education and Behavior
Dr. Emily Pankow Fritz earned her M.S. and Ph.D. at South Dakota State University in Exercise, Nutrition and Food Science while studying the impact of eating behaviors and energy restriction on endurance exercise performance in females. She joins the Beachbody team from a scientific position in the dietary supplement industry where she was responsible for designing, interpreting and presenting the results of clinical trials. She has authored, presented and collaborated on many research studies ranging from large National Institutes of Health (NIH) studies to leading student research projects during her time as an Assistant Professor at Simpson College.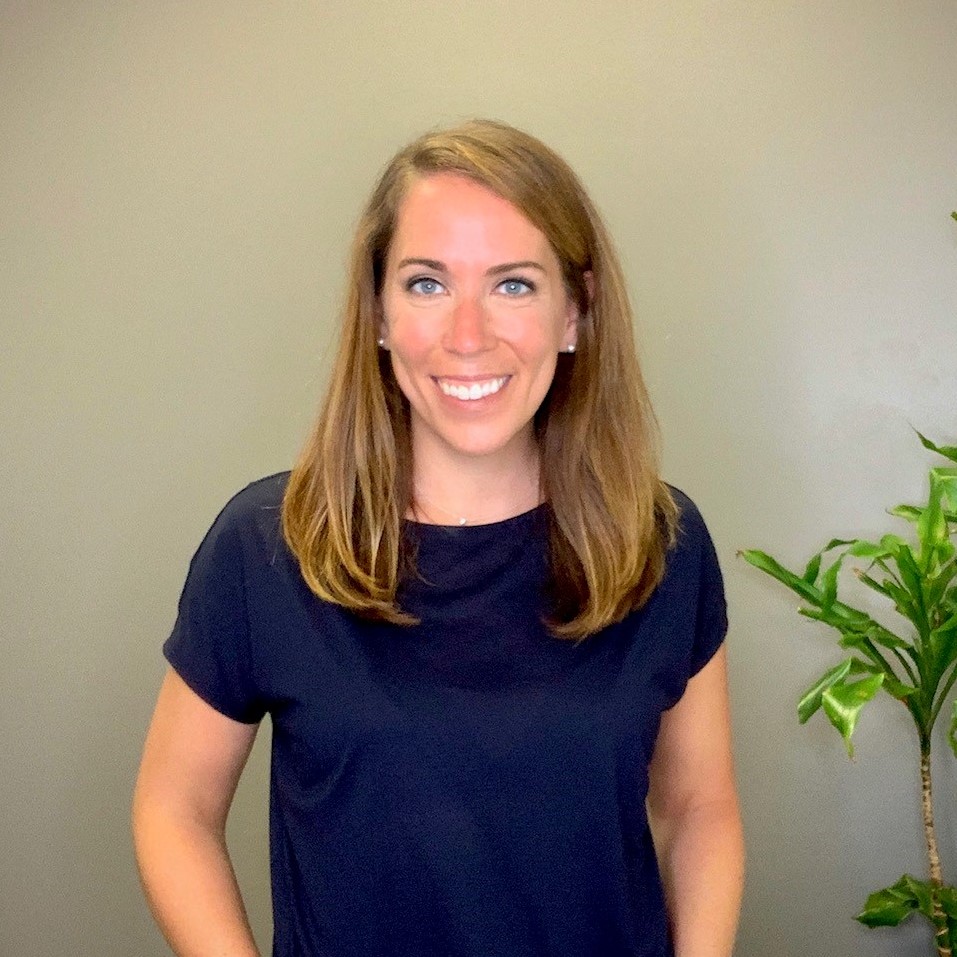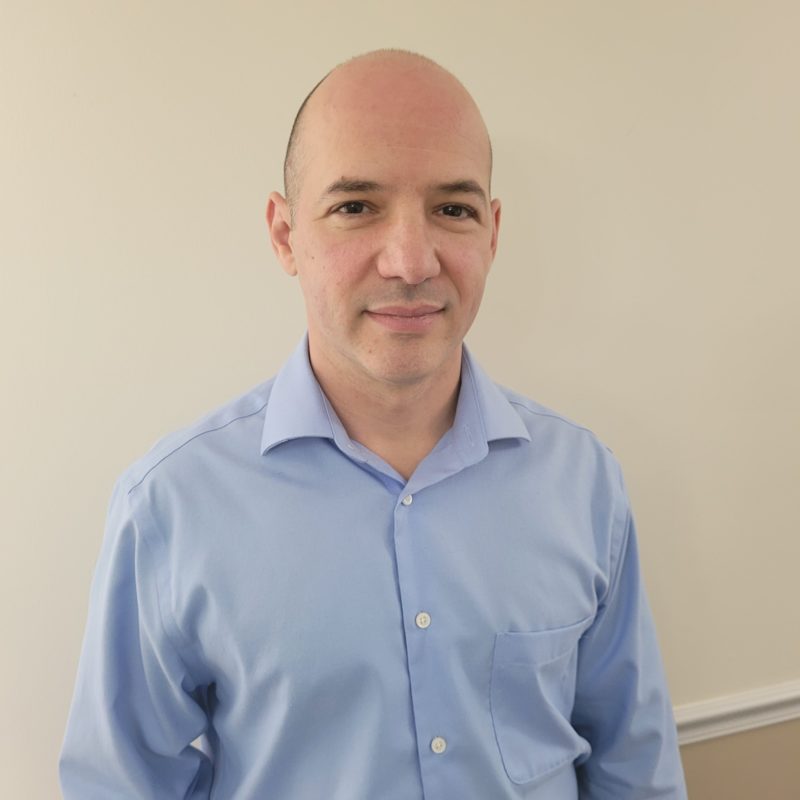 Paul Falcone, M.S.
Senior Scientist, Scientific Affairs
Background:
Master of Science (M.S.), Colorado State University
ISSN Certified Sports Nutritionist (CISSN)
NASM Certified Personal Trainer (NASM-CPT) 
Member, International Society of Sports Nutrition (ISSN)
Paul received his Master's degree from Colorado State University at the Department of Food Science and Human Nutrition, where he studied the effect of dietary intake of omega-3 fatty acids and heart health. He has worked in the dietary supplement industry for 8 years with a focus on clinical research and sports nutrition, and he has worked with various professional and collegiate athletes, including players from the MLB, NFL, NBA, UFC, and the Olympics. Paul has published over 50 peer-reviewed papers and abstracts on supplementation, diet, exercise, and active wellness.
May Lam, M.S.
Sr. Principal Scientist, Product Development
Background:
Master of Science (M.S.), University of Bridgeport
Bachelor of Science (BSc), University of California, Los Angeles
Patented inventions in supplementation formulation and delivery
May is a principal scientist at Beachbody where she works on the development of new products and prototypes for the Product Development team. She has a BSc in Biology from UCLA and an M.S. degree in Human Nutrition from the University of Bridgeport.
May works closely with Scientific Affairs to bring new products to commercialization. Prior to joining Beachbody, May worked in the product development and innovation groups focusing on a broad range of products in weight management, vitamins and dietary supplements, and sport nutrition categories.
Krista Maguire, R.D., C.S.S.D.
Manager, Food, Nutrition & Results
Background:
Registered Dietitian (R.D.), University of Texas at Austin
Board Certified Specialist in Sports Dietetics (C.S.S.D.), Commission on Dietetic Registration (CDR)
Member, Academy of Nutrition and Dietetics (AND)
Krista is a registered dietitian and certified specialist in sports dietetics.
As a nutrition manager at Beachbody, she brings science-based nutrition knowledge to our Fitness, Nutrition and Results (FNR) Department. She develops eating guides, answers questions on the Beachbody on Demand community boards, and helps integrate our supplements into the broader Beachbody picture.
Krista's background includes managing projects ranging from the development of superfood supplements to the writing of nutrition and recipe guides. She also worked with clients providing holistic nutrition-based wellness programs.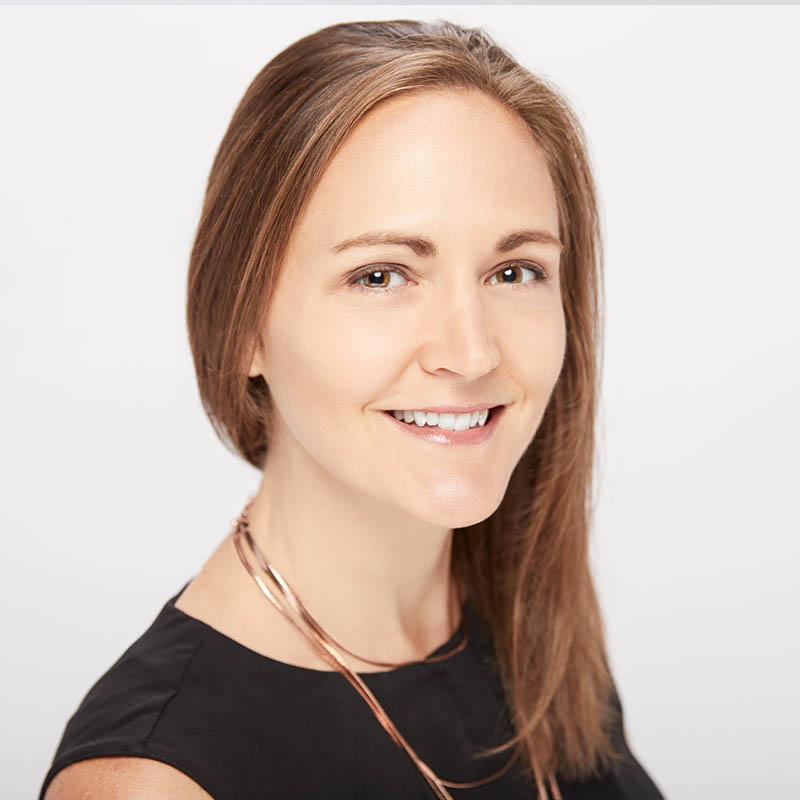 SCIENTIFIC ADVISORY BOARD
Heather J Leidy, Ph.D.
Associate Professor at the University of Texas at Austin
Background:
Postdoctoral Fellow, Purdue University
Doctor of Philosophy (Ph.D.), Pennsylvania State University
Master of Science (M.S.), Pennsylvania State University
Heather J. Leidy, Ph.D., is an associate professor in the Department of Nutrition Science at Purdue University. Dr. Leidy received her BS in Biology from Shippensburg University and taught junior-high biology in the Pennsylvania public school system for several years.
She then went on to complete her M.S. and Ph.D. in Physiology (with an emphasis in exercise endocrinology and metabolism) at Penn State University as well as a postdoctoral fellowship in the Department of Nutrition Science and the Ingestive Behavior Research Center at Purdue University.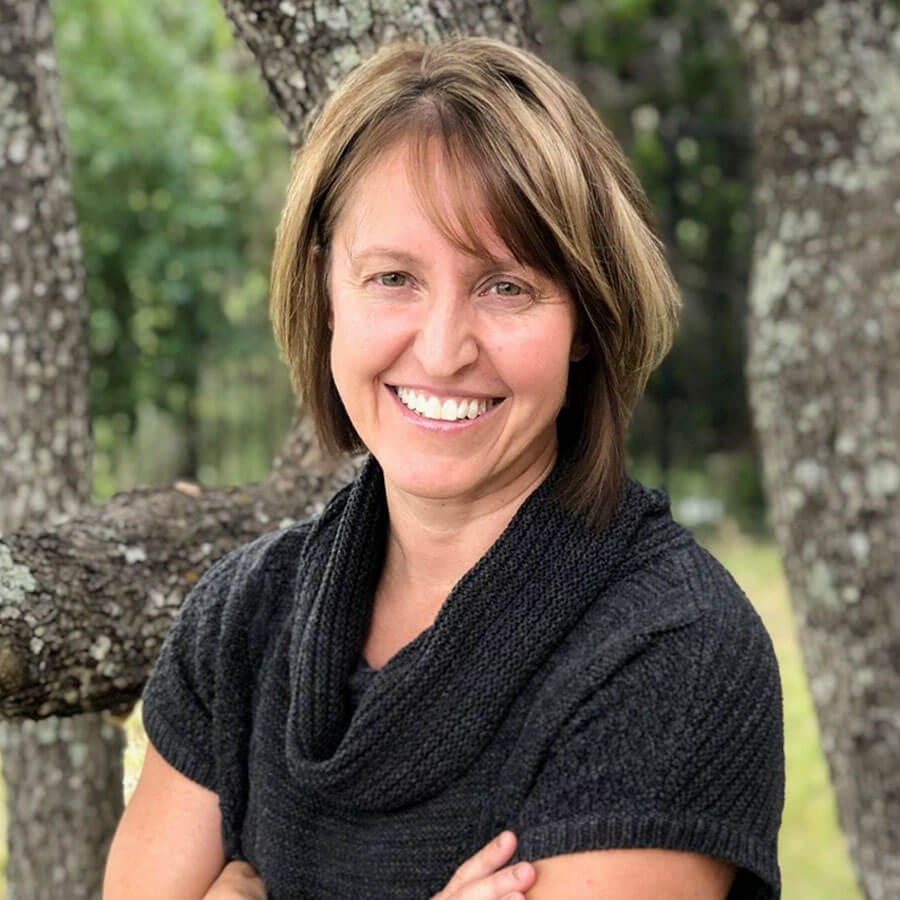 As a nutritional physiologist, she incorporates a 'pipet to dinner-plate' approach by examining the ingestive (i.e., eating) behavior signals by which the consumption of increased dietary protein improves weight management in humans. This line of research has led to the development of novel dietary strategies for the prevention and/or treatment of obesity and type 2 diabetes.
Dr. Leidy's specific focus areas include the effects of protein quantity, quality, and timing of consumption on the appetitive, hormonal, and neural signals controlling appetite, satiety, and food cravings.
She has authored over 60 original research publications and has given over 100 invited research talks in this area. In 2015, Dr. Leidy received the American Society of Nutrition Mead Johnson Nutrition Award to young investigators in recognition of outstanding research in environmental & nutritional physiology.
The award was based on her most recent works focusing on the importance of consuming a high-protein breakfast for satiety, glycemic control, and weight management in overweight young people who habitually skip breakfast. Her funding has included both industry support and the National Institutes of Health (NIH).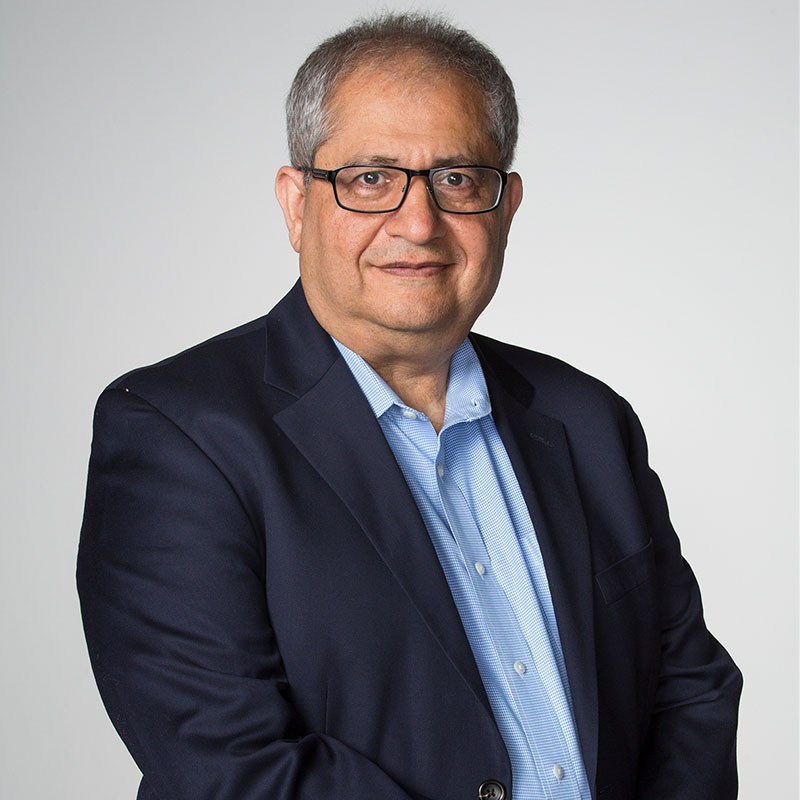 Mansour Samadpour, Ph.D.
Founder & CEO of IEH Laboratories & Consulting Group
Background:
Professor, University of Washington
Postdoctoral Fellow, University of Washington
Doctor of Philosophy (Ph.D.), University of Washington
Dr. Samadpour is the president of IEH Laboratories & Consulting Group (IEH) and Molecular Epidemiology Inc. (MEI), who together employ over 1,400 personnel in six countries. He is a microbiologist with extensive experience in public health microbiology, food safety, food production, and epidemiology of food-borne illnesses. Dr. Samadpour is well-published and an inventor of over 30 patents and patent applications.
Prior to founding IEH and MEI, Dr. Samadpour was on the faculty at the School of Public Health, University of Washington, Seattle, where he also received his Ph.D. in Food Science and Technology.
He has been closely involved in defining and developing microbiological testing programs for food-safety management. Dr. Samadpour's expertise has been sought in most of the major foodborne illnesses that have occurred since 1993, and he has designed and implemented enhanced food-safety systems for many affected companies.
Dr. Samadpour has pioneered a risk-management approach for food and nutraceutical companies based on comprehensive hazard analysis, risk assessment, validation of processes, verification, and process control testing.
Francis Stephens, Ph.D.
Professor at Exeter University
Background:
Postdoctoral Fellow, University of Nottingham, UK
Doctor of Philosophy (Ph.D.), University of Nottingham, UK
Patented inventions in sport and health sciences
Dr. Francis Stephens is a professor of nutritional physiology at the University of Exeter, the best University for Sport Science in England. He's a world leader in the field of performance nutrition and has presented at countless conferences on the topic and workshops for international athletic associations.
His original research on the influence of performance nutrition and exercise on human skeletal muscle metabolism has been published in leading journals and books.
As part of his extensive research, Dr. Stephens has investigated how to use nutrition and exercise to manipulate muscle metabolism and influence exercise performance, muscle fatigue, recovery, insulin sensitivity, and energy expenditure in the young and old.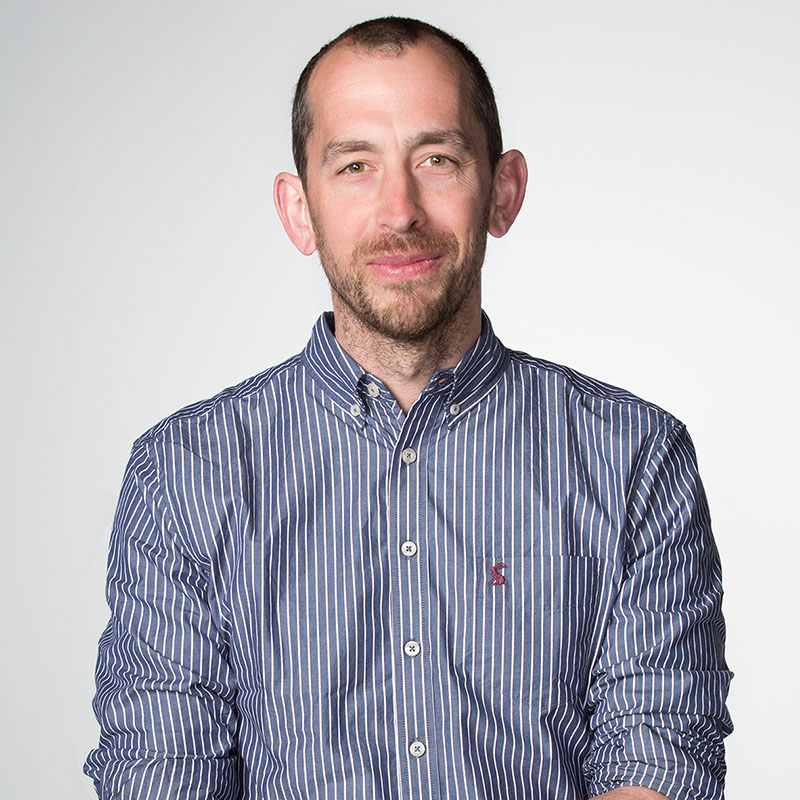 He has also served as an advisor on sport supplementation studies in elite athletes. His peer-reviewed research on the influence of nutritional supplements and exercise has been included in several books, including "The International Olympic Committee Encyclopedia of Sports Medicine: Sports Nutrition."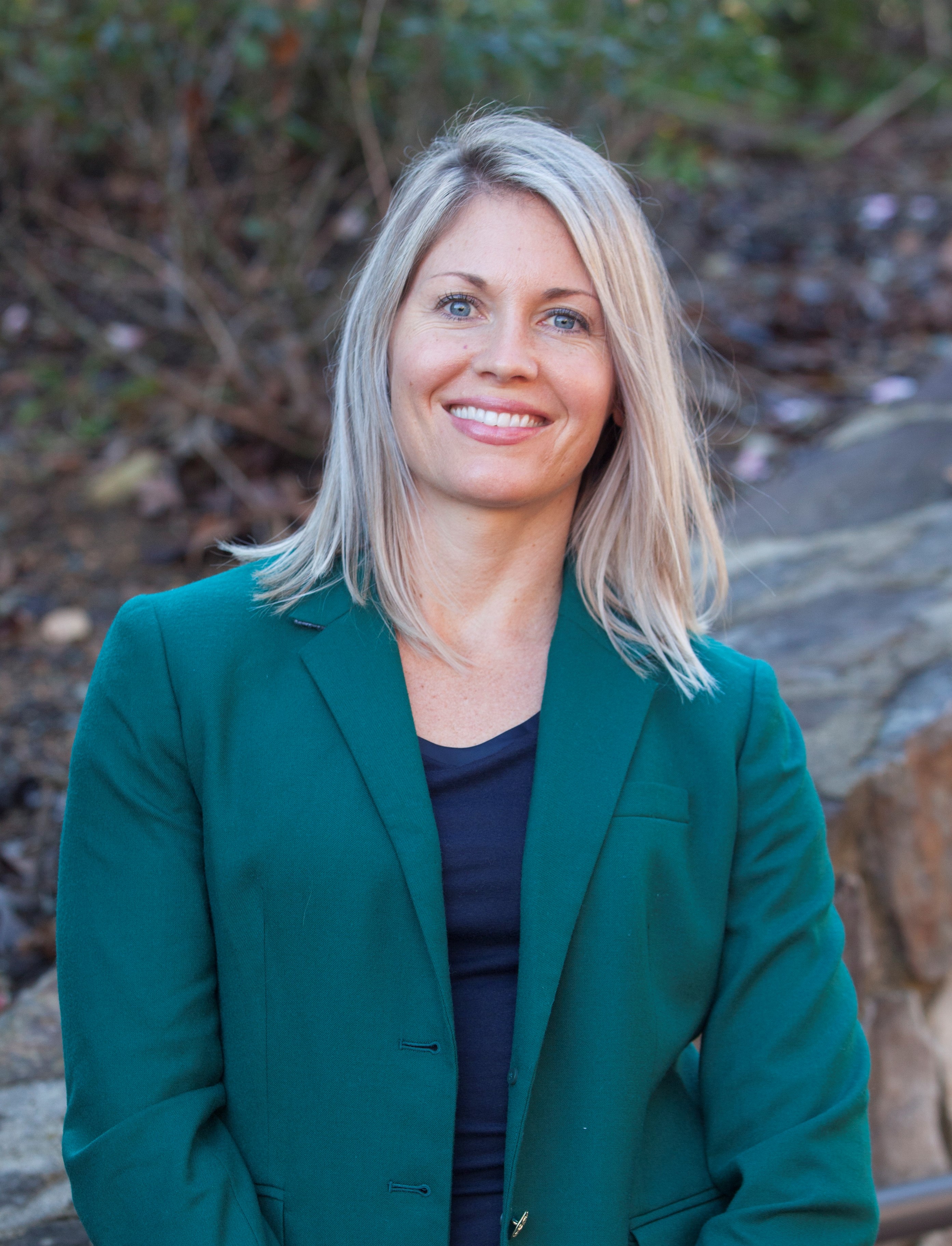 Abbie Smith-Ryan, Ph.D.
Associate Professor at the University of North Carolina, Chapel Hill
Background:
Doctor of Philosophy, University of Oklahoma
Master of Science, University of Oklahoma 
Abbie E. Smith-Ryan, Ph.D., CSCS*D, FNSCA, FACSM, FISSN is an Associate professor in the Department of Exercise and Sport Science, where she serves as the Director of the Applied Physiology Lab. She is also an adjunct associate professor in the Department of Nutrition.
Her research interests center around exercise and nutrition interventions to modify various aspects of body composition, cardiovascular health, and metabolic function.  She is an active researcher in the field of metabolism, sport nutrition and exercise performance, in both healthy and clinical populations, leading projects funded by the National Institutes of Health and International and National industry sponsored clinical trials.
Dr. Smith-Ryan contributes to the current body of scientific literature with over 150 peer-reviewed manuscripts; a number of scholastic books and book chapters, and international/national presentations.
She is actively involved in the National Strength and Conditioning Association (NSCA), American College of Sports Medicine, and the International Society of Sports Nutrition. She was recognized by the NSCA as the Nutrition Researcher of the Year (2013) and the Young Investigator of the Year (2015).
Dr. Smith-Ryan currently serves as a University liaison for the 'Working on Women in Science (WOWS)' initiative, Faculty Athletics Committee Member, and Institutional Review Board member. She has a passion for improving the health and quality of life of others through evidenced-based research.
CO-CREATORS OF SHAKEOLOGY AND ULTIMATE RESET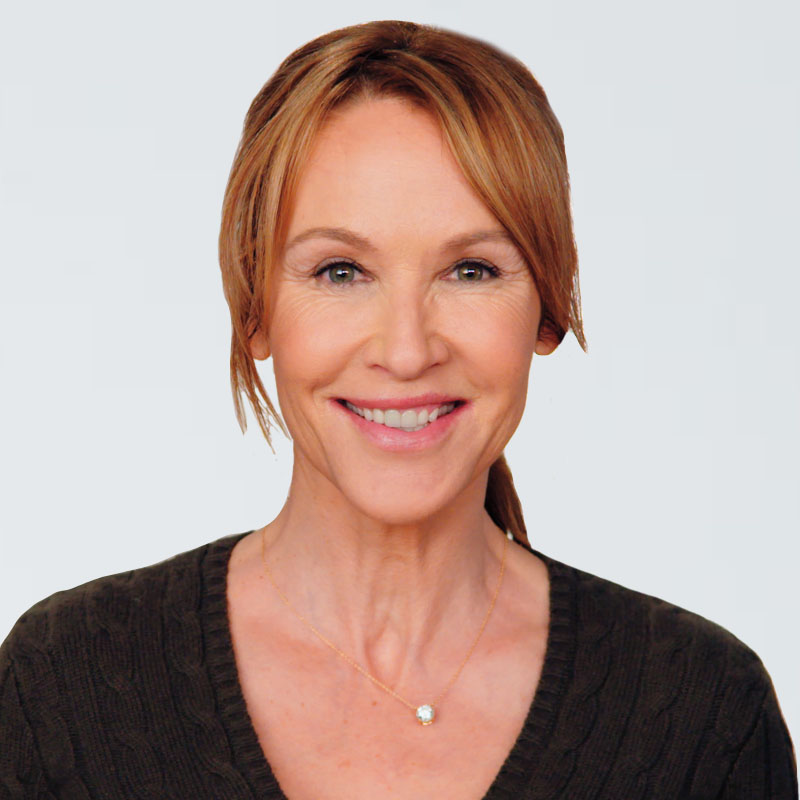 Isabelle Daikeler
Senior Health, Nutrition, and Fitness Consultant
Shakeology, co-formulator
Ultimate Reset, co-creator
3-Day Refresh, creator
Daily Sunshine, creator
Isabelle is one of the creators of Shakeology, a nutritionist, and a personal trainer. She holds two Bachelor of Science degrees — one in kinesiology from College Francais and one in sports psychology from UCLA.
As a Distinguished Achievement Award winner from the International Sports Sciences Association, Isabelle is 1 of 11 out of 15,000 certified trainers to receive this prestigious award. Isabelle is certified in medicine ball training, scientific core conditioning and back training and fitness for pregnant women.
She is also a designer and expert trainer for Precor Fit Class which uses the Precor Fit-Elliptical Cross Conditioning Machine. Isabelle has been a guest fitness writer for Shape magazine and featured in People and Vogue magazines and on E! Entertainment and NBC News. Isabelle is married to Carl Daikeler and they have a son.
Darin Olien
Nutritional Scientist
Shakeology, co-formulator
Ultimate Reset, co-creator
Darin Olien, the co-formulator of Shakeology and co-creator of the comprehensive plant-based UltimateReset 21-day cleanse program, is often called "the Indiana Jones of superfoods."
He's a widely recognized exotic superfoods hunter, supplement formulator, and environmental activist who travels the planet discovering new and underutilized beneficial plants. Darin has been around the world and back again on numerous remote field missions to source, formulate, and research the world's greatest edible food sources for optimal health.
Today, Darin is a renowned authority on nutrition, hydration and the potency of foods and herbs, and he works closely with international farmers, growers, and manufacturers to get high-quality, fair-trade superfood and herbal commodities into the market.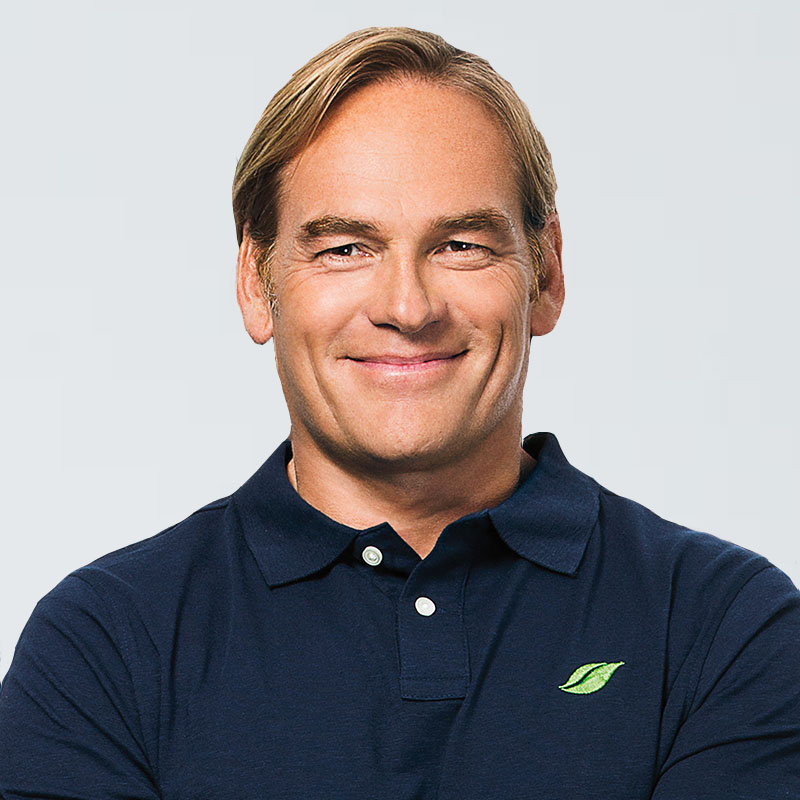 Darin is passionate about helping people discover the power of a plant-powered lifestyle and also writes the monthly column, The Power of Plants, for the Beachbody Blog.

Academic Institutions and Laboratories

University of Exeter
Exeter is a world-leading university ranked first in Sport Science in the United Kingdom for 2018/2019. In partnership with the University of Exeter's sports science team, we're studying the effects of Beachbody Performance products on hydration, performance, and recovery.
Beachbody is a sponsor of three Ph.D. students whose projects are devoted to the study of exercise and nutrition on human performance. Their work has been published and presented at leading scientific conferences, including the British Association of Sport and Exercise Sciences (BASES) and the American College of Sports Medicine (ACSM).
INQUIS Clinical Research

INQUIS Clinical Research is an ISO 9001 certified clinical research organization providing the highest quality clinical nutrition research services to the food industry. We partnered with INQUIS (formerly GI Labs) to test the acute effect of Shakeology on appetite and energy intake as well as to test the glycemic index of our products, including Shakeology and our BEACHBAR snack bar.
Oxford Brookes University
Quality and Certification
IEH Laboratories and Consulting Group

IEH is one of the world's leading laboratories with longstanding contributions assisting industries to produce safe and wholesome products. Through our partnership, they provide us with routine analytical support on microbiological, chemical and toxicological testings of Beachbody products and data interpretation.
Informed-Sport®
We partnered with Informed-Sport ® for Beachbody Performance products. Informed-Sport is a global quality-assurance program for sports nutrition products, suppliers to the sports nutrition industry, and supplement manufacturing facilities. The program certifies that every batch of Performance products has been tested for banned substances by LGC's world-class sports anti-doping laboratory.
Peak Performance Project
Peak Performance Project is a world-leading athlete performance training center. P3 employs a data-driven approach to understanding athlete movements and maximizing sports performance. P3's science-based approach uses a team of biomechanists, data scientists, neuroscientist, programmers, and sport physiologists. P3 exclusively uses Beachbody Performance products to support their athletes.