Beachbody Results: Alyson Overcame Challenges of Hypothyroidism, Lost 77 Pounds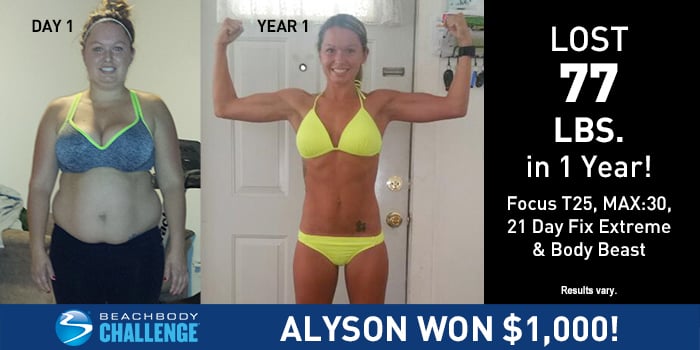 †Results vary depending on starting point and effort. Alyson is an independent Beachbody Coach.
Alyson Gillam, age 29 from Cassopolis, MI, lost 77 lbs in 1 year with FOCUS T25, INSANITY MAX:30, 21 Day Fix EXTREME, and Body Beast. She entered her results into The Beachbody Challenge® and won $1,000!
Tell us about your life before you started the program. How did you feel about yourself and your body?
To describe my life before starting with Beachbody, I would use 3 words: Tired, lazy, and overweight! I had all the excuses in the world not to change how I looked or felt. After having my children, I slowly started seeing a decline in my health and the weight gain began. In 2012 I was diagnosed with Hypothyroidism and slowly continued to gain weight.3 I was frustrated with myself for sitting back and letting it happen. I always made excuses for why I was gaining weight but didn't do anything to change it, until now!
What inspired you to change your life and begin your transformation journey?
Enough was finally enough! I was so unhappy with how I felt that when my husband asked if I would do T25 with him I said sure. I had doubt that I would finish the program but I did and was very successful. We have now completed INSANITY MAX:30, 21 Day Fix EXTREME, and Body Beast!
What is the greatest challenge you faced before beginning the program? How did the program and Beachbody® help you overcome that challenge?
My biggest challenge before was finding the time to workout. Now I know that was just an excuse! Everyone can find 25-30 minutes a day to get moving and get started! I am so glad that Beachbody structured workouts for busy individuals that do not have hours to spend at the gym. These programs were designed for anyone and everyone!
What in particular did you like about the program you chose?
I loved Body Beast because it made me feel empowered! There is no better feeling than lifting weights whether it is light or heavy!
Describe the results you achieved with your Beachbody program. Which achievements are you proud of?
My overall results were amazing! My main goal was to tone and gain muscle. My expectations were met far beyond! My waist has withered smaller and my booty has been lifted!
How has your life changed since completing your Beachbody program?
My life has changed completely. I have energy now that I didn't have due to my Hypothyroidism. As a family we are making better food choices and showing our kids that fitness is fun! I have also started running and completely love it! I just finished my 3rd 5k of the year!
How did your Team Beachbody® Coach support you on your journey?
Lori was very supportive through the whole program! She checks in on me to make sure I am still on my desired path. She gave me tools in our group for better nutrition and also pointed out that we are human and everyday will not be perfect. You just have to take it one day at a time and move forward!
How did a Beachbody Supplement or Nutritional Product or Program (such as Shakeology® or Beachbody Ultimate Reset®) support your transformation? What are the greatest benefits you gained? Did you see benefits to your energy, sleep, mood/mental clarity, digestion/regularity?
I love Shakeology! It not only tastes good but is so good for you. It is so filling and has helped me with my sweet tooth cravings. I usually drink my Shakeology after working out to help curb hunger and re-energize my body.2
You can change your life, too. Take the Beachbody Challenge for the tools you need to Decide, Commit, and Succeed! Complete any Beachbody program, and enter your results for a free gift and a chance to win cash and prizes.


3Always consult with your physician about your unique medical needs before starting any fitness program or nutrition product.
2These statements have not been evaluated by the Food and Drug Administration. This product is not intended to diagnose, treat, cure, or prevent any disease.