5 Reasons to Add Aloe Vera to Your Skin Care Routine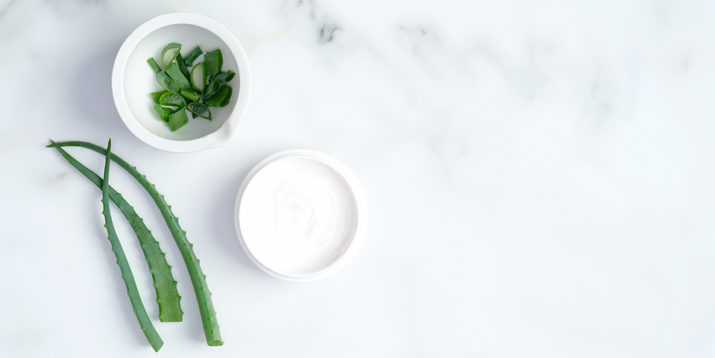 You may not give aloe vera much thought as a skin care ingredient — other than once or twice a summer, when you find yourself slathering it on your skin after too many hours in the sun.
But there are several aloe vera benefits for skin you may not be aware of.
This succulent plant — which is native to Northern Africa, Southern Europe, and the Canary Islands — contains a gel that's packed with nutrients and vitamins and can help keep your skin healthy.
"It's great for all skin types," says Sydney Givens, PA-C, dermatology physician assistant and founder of Skincare By Sydney.
In fact, research suggests aloe vera gel contains as many as 75 potentially helpful compounds.
Here are five reasons you might want to make it a year-round fixture in your skin care routine.
1. Soothes Skin
When you think of aloe vera benefits for skin, sunburn relief is probably the first thing that comes to mind. Aloe vera has anti-inflammatory, antimicrobial, and healing properties — and, yep, that means it's particularly good for soothing sunburned skin.
But you can also apply aloe vera gel to minor cuts, scrapes, and burns to help heal and calm your skin.
Pro tip: "Put your aloe vera gel in the refrigerator, so the cooling sensation immediately soothes irritated skin," Givens suggests.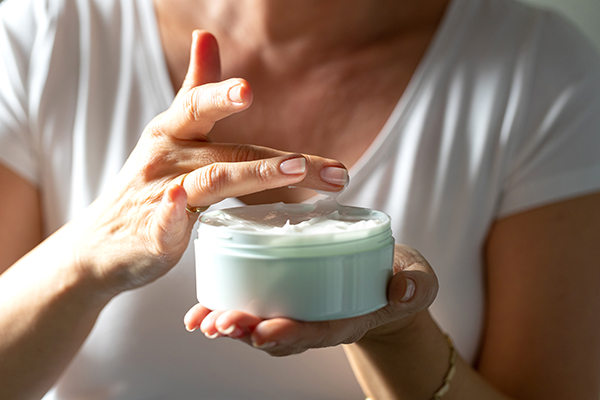 2. Moisturizes
Aloe vera can also help hydrate dry skin. "It's a humectant, which means it helps draw moisturize into the top layers of the epidermis to help hydrate it and make skin appear more plump," says Tsippora Shainhouse, FAAD, board-certified dermatologist in private practice at SkinSafe Dermatology and Skin Care.
Aloe vera can be used as a moisturizer on your body or face if your skin is feeling tight, dry, or itchy. Shainhouse suggests applying aloe vera on slightly damp skin, then layering it with a moisturizer that contains ceramides to help lock in moisture.
3. Can Help Reduce Signs of Aging
Aloe vera contains vitamins A, C, and E — all of which are believed to benefit the appearance and health of your skin. These vitamins also have antioxidant properties, Givens adds, which may help protect against sun damage.
Research suggests that using aloe vera may also increase the production of collagen, says Deborah Longwill, board-certified dermatologist and co-creator of Doctor's Daughter Skincare. Collagen is a protein that plays an important role in skin elasticity and may help minimize the appearance of wrinkles.
4. Lessens Redness
Research suggests that aloin, one of the key molecules in aloe vera, may have anti-inflammatory properties.
That's one of the reasons it's so good for sunburn — but it may also help prevent the redness, swelling, and inflammation associated with other inflammatory skin conditions, Shainhouse says.
5. Nourishes Your Hair And Scalp
Got dry hair or a flaky scalp? Aloe vera may offer some relief.
"Applying pure aloe vera to your scalp and hair can help with dandruff and conditioning dry and damaged hair," Longwill says. She recommends using it as a hair mask in the shower.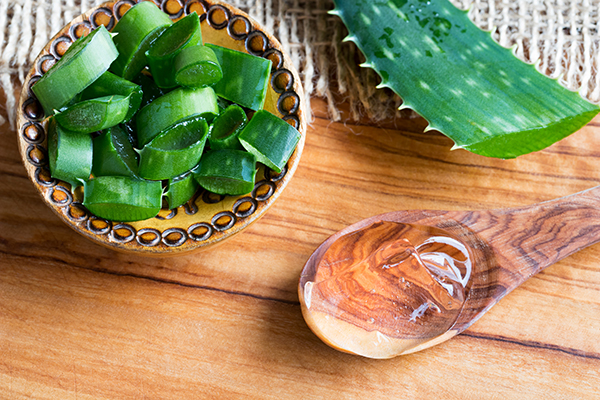 How to Use Aloe Vera At Home
There are two ways to use aloe vera topically on your skin. You can shop for skin care products that contain aloe vera as an ingredient, or you can buy an aloe plant and squeeze the gel from its leaves.
No matter which option you choose, it's a good idea to follow a few key tips:
Do a patch test
"Like any topical product, aloe vera can cause sensitivity or dermatitis — particularly on the face, since the skin here is more sensitive than skin on the arms or legs," Givens says.
Even if you're using pure aloe vera gel, you may experience an allergic reaction, Longwill adds. Dab a dime-sized amount on your hand or neck, then wait at least 24 hours to see how your skin reacts.
Read the label
Look for products with natural ingredients, Longwill says. That means nixing anything that has harsh or irritating ingredients, especially if you have sensitive skin.
Consider avoiding products with added fragrances, essential oils, and preservatives, Shainhouse adds.
Alcohol is another culprit. "Choose an aloe gel or cream that doesn't contain alcohol, which can dry out the skin," Givens says.
See what works best for your skin
If you want to make aloe vera a regular part of your skin care routine, Givens recommends adding it to your moisturizing step.
Depending on your skin type, however, you may need to adjust how much you apply and how often you do it.
If you have oily skin, you may be able to use aloe vera in lieu of moisturizer.
If you have dry skin, on the other hand, you may need to use aloe vera and regular moisturizer for maximum hydration. And if your skin is sensitive, you may have to limit your aloe use to once or twice a week as needed.
Once you get a feel for how your skin reacts, you can decide how aloe vera will fit into your skin routine.