Ahi and Avocado Quinoa Sushi With Sesame Infusion
Who doesn't love sushi night? A couple of California rolls, some spicy tuna rolls, a little sashimi — yum. But as any sushi-lover knows, a couple of this, some of that, and a little of this can add up, price-wise and calorie-wise.
So why not try sushi night at home? You get to control the ingredients, flavors, and nutrition. What you don't need are mad chef skills — luckily for you, Autumn Calabrese, creator of 21 Day Fix and Country Heat, has a brother who just happens to be a professional chef. Autumn and Bobby have a FIXATE recipe for Ahi and Avocado Quinoa Sushi with Sesame Infusion that will blow your mind.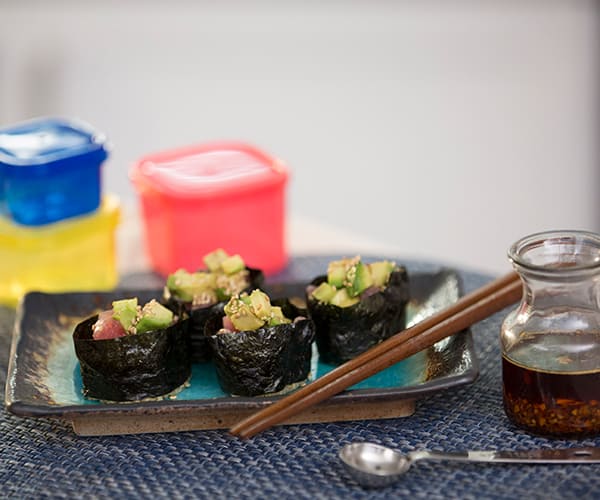 These aren't typical sushi rolls; you wrap the seaweed around the ahi and avocado for a bite-sized piece of perfection. You don't need any special equipment, they're easy to assemble, and incredibly versatile — you can top this sushi with anything you want: more fish, vegetables, or fruit.
It checks all the boxes for a satisfying meal: light, filling, and bursting with flavor and texture. The best part? Once you buy all the ingredients, you'll have most of what you'll need ready for your next sushi night.
Pro tip: Nori can be hard to slice, so make sure you have a really sharp knife or pair of scissors. Or look for nori that comes in slightly perforated pre-cut strips.
To get the full recipe, including ingredient amounts and step-by-step instructions, watch the FIXATE episode on BODi!
Save