Tai Cheng Results: This 77-Year-Old Lost 53 Pounds and Won $1,000!
†Results vary depending on starting point and effort. Marie is an independent Beachbody Coach.
Marie Morgan, age 77 from Hawthorne, CA, lost 53 lbs with Tai Cheng and Ultimate Reset. She entered her results into The Beachbody Challenge and won $1,000!
Tell us about your life before you started the program. How did you feel about yourself and your body?
I felt bad about myself and none of my clothes fit. My body was in a complete "I don't care" mode.
What inspired you to change your life and begin your transformation journey?
When I saw what just drinking a shake every day could do for you physically and emotionally. I also saw what it was doing for family members around me.
What is the greatest challenge you faced before beginning the program? How did the program and Beachbody® help you overcome that challenge?
The cost of the shake when you live on a fixed income was a challenge. Will I have enough willpower to stay away from the "junk food"? That was me before Beachbody and Shakeology. Staying committed to my workouts when I was never a workout person. When I saw the change that I was able to do with and proper nutrition and exercise. I allowed Beachbody into my life, and I thank each and everyone for all the encouragement that I have been getting along the way.
What in particular did you like about the program you chose?
Tai Chang was the right program for me because it was the least strenuous on my aging body! Plus it still had modifications for the moves I couldn't do yet. I also liked that it came with a calendar and I did not have to guess what my workout was for the day. I just followed the plan.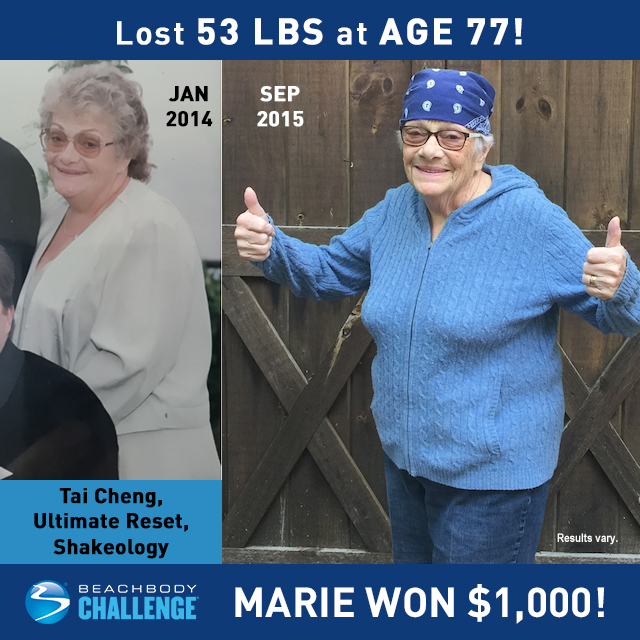 Describe the results you achieved with your Beachbody program. Which achievements are you proud of?
I'm most proud of the weight I've lost and how it has made me feel. All my pants hang on me now! I proud that I did this on my own… I had encouragement from my Coach but it was up to me to press play!
How has your life changed since completing your Beachbody program?
I feel more energy throughout the day. I've now had both knees repaired and look forward to jumping back into the program and getting stronger. I feel more confident in what I can do. Now I have to go and buy new clothes! That's a big change but glad to have to do it!
How did your Team Beachbody® Coach support you on your journey?
Her and I did the Ultimate Reset together and she helped me stay on track for what seemed like forever! She was very encouraging along the way and still gives me high fives for staying committed.
How did a Beachbody Supplement or Nutritional Product or Program (such as Shakeology® or Beachbody Ultimate Reset®) support your transformation? What are the greatest benefits you gained? Did you see benefits to your energy, sleep, mood/mental clarity, digestion/regularity?
I was able to replace one meal a day with Shakeology and know that I was getting great nutrition. It also helped with regularity and my energy is consistent when I take Shakeology. The Ultimate Reset taught me to cook different foods with great recipes that I continue to cook today. Sleep has improved, which has always been very tough for me.2
You can change your life, too. Take the Beachbody Challenge for the tools you need to Decide, Commit, and Succeed! Complete any Beachbody program, and enter your results for a free gift and a chance to win cash and prizes.

2These statements have not been evaluated by the Food and Drug Administration. This product is not intended to diagnose, treat, cure, or prevent any disease.