19 Choses Que Vous Ignorez Sur Shaun T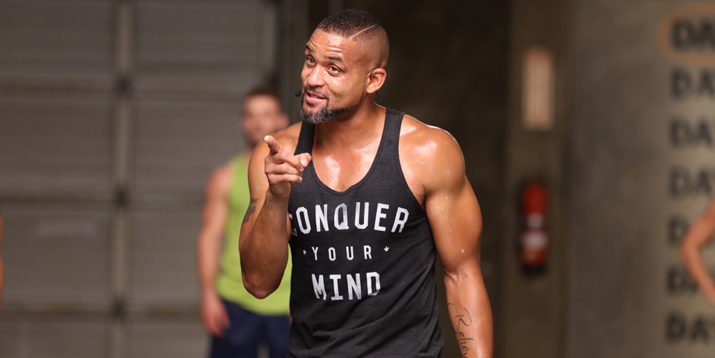 N.B. Cet article est destiné à nos clients français.
---
Le Super Trainer Beachbody Shaun T. est plein d'énergie, motivant, infatigable et toujours impressionnant.
Nous avons eu la chance de nous asseoir en sa compagnie et d'obtenir des réponses à quelques questions brûlantes.
Découvrez son un repas idéal, ses plaisirs coupables et ce qui l'a amené où il se trouve aujourd'hui.
Ce que vous ignorez à mon propos… par Shaun T:
1. Le plat que je préfère: Les frites.
2. Le plat que je déteste: Les légumes crus.
3. Mon repas idéal: Mon repas santé idéal est composé de patates douces, de côtes de porc, d'encore plus de patates douces et ensuite soit d'épinards, soit d'asperges. Le repas que j'aime mais qui n'est pas idéal: des frites, un roulé au bœuf et au fromage style Philadelphia, avec des oignons frits, du sel, du poivre, de la mayonnaise et du ketchup. Oh. Mon. Dieu.
4. Ma motivation quand je n'ai pas envie de m'entraîner ou de manger sainement: Me reposer me motive.
5. Mon plaisir coupable: Je ne me sens jamais coupable, pour rien, vraiment, mais… les films d'horreur, les parcs d'attractions et le « funnel cake ».
6. Mon point fort: Je suis très créatif.
7. Mon point faible: Le jeu d'acteur.
8. Comment je me change les idées après une mauvaise journée: En allant au spa.
9. La chanson ou le style de musique qui me met toujours de bonne humeur: (Il se met à chanter… "Oh, I wanna dance with somebody/I wanna feel the heat.") Mmh… Whitney Houston, ça marche à tous les coups!
10. Le talent que j'aimerais avoir: Le jeu d'acteur.
11. Qui j'admire et pourquoi: Serena Williams, car elle est impressionnante. Elle a défié la chance de tant de façons.
12. Les qualités que j'admire le plus chez une personne: L'honnêteté, qui, pour moi, signifie le fait de rester vrai, et l'authenticité.
13. Ce que je valorise le plus chez mes amis: Loyauté, loyauté, loyauté.
14. Trois qualités qui ont fait de moi la personne que je suis aujourd'hui: Authenticité, flexibilité et honnêteté.
15. Les changements que j'aimerais voir dans mon secteur: Je voudrais voir plus d'authenticité, moins d'intérêt pour le corps et davantage pour l'esprit.
16. Le meilleur conseil que l'on m'ait donné: Mon grand-père me disait toujours de tout faire pour être au meilleur de ma forme.
17. Le meilleur conseil que je donnerais à quelqu'un: Soyez 100 % authentique avec vous-même.
18. Ma plus grande réussite: Je crois que ma plus grande réussite jusqu'à présent est d'avoir été reconnu ancien élève émérite de mon université [Université de Rowan], parce que c'est quand même quelque chose d'important.
19. Ma journée idéale: Me lever, boire un café, jouer au tennis, déjeuner, m'entraîner, me faire masser, aller au cinéma, puis me coucher vers 20 h 30.
P.S. Shaun, tu peux ajouter le chant à la question 6!