Motivational Music: Jericho McMatthews' Pumped Up Pop Workout Playlist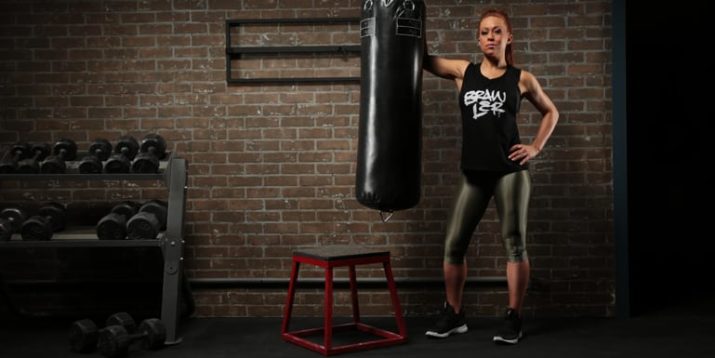 Jericho McMatthews knows better than anyone that when you're kicking and punching your way to your fitness goals, you're going to need a good soundtrack.
A Beachbody Super Trainer, McMatthews co-created Beachbody's mixed-martial-arts fitness program, CORE DE FORCE, alongside her friend Joel Freeman.
To keep herself motivated, she made a personal soundtrack which she kindly shares with audiences whenever she and Freeman host live workouts together.
McMatthews, who has degrees in Psychology and Physical Education and Kinesiology from the University of California, Santa Barbara, created a playlist that combines strong women artists with "harder-hitting" jams to get her through weightlifting and intense moves, as well as some "nasty hip-hop" for when she needs to bring her heartbeat down a notch or two.
"Music is everything to me," she says. "It would be extremely hard for me to work out without amazing music. I think it just drives the entire experience, and it just makes the workout fly by. It puts me in a zone that makes me forget about everything else."
Listen to the full Spotify playlist below, and follow Beachbody On Demand on Spotify for more great playlists to pair with any kind of workout.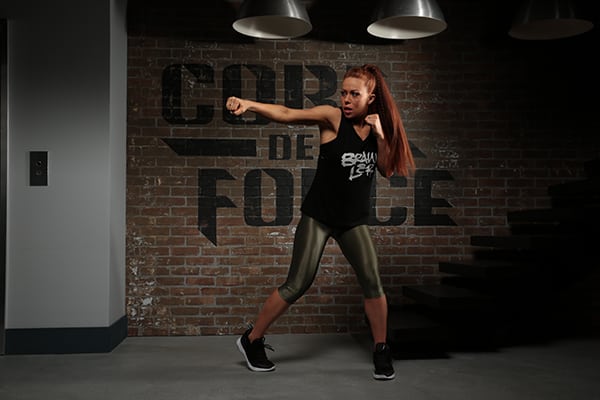 Jericho McMatthews' Pumped Up Pop Workout Playlist
"Medieval Warfare"
Artist: Grimes
Album: Suicide Squad: The Album
"I could do any cardio or weights to this [song]. Joel and I love to do sessions at a boxing gym, and we'll play really loud, really aggressive music like [this] song in particular."
"House Work"
Artist: Jax Jones featuring Mike Dunn, MNEK
Album: House Work
"[This song] sounds a little more lighthearted. I like [it] as a warm-up, something less aggressive, medium- to fast-paced, to get my heart rate up and moving."
"Jump" and "Phresh Out the Runway"
Artist: Rihanna
Album: Unapologetic
"I love Rihanna. She's probably my favorite artist. She's got a really cool vibe as a female, just generally strong and independent… She's just really raw. She puts her feelings out, and I really respect how honest she is in her music. For me, I identify a lot with strong females in general, and a lot of the music I choose is [made by] strong females."
"Ladi Dadi" (Tommy Trash Remix)
Artist: Steve Aoki featuring Wynter Gordon
Album: Wonderland (Remixed)
"This is such a good song! My two favorite ways to work out are boxing and dancing, and this is one that I've choreographed some dances to. It really pumps me up."
"Born to Rage" (USA Version)
Artist: Dada Life
Album: Born to Rage (Remixes)
"This is a song that really motivates me, and it just pulls more effort and intensity into my workouts. If I'm dying and I put on a song like this when I'm working really hard, it makes me work even harder."
"This Is What You Came For"
Artist: Calvin Harris featuring Rihanna
Album: This Is What You Came For
"[This song] is a little more chill. It's got a lot of great crescendos, highs and lows. Actually, Joel and I choreographed a workout to this song for our live workouts. It's just got a really good flow. It's not too intense; it's a lot different than 'Ladi Dadi' and 'Born To Rage.' It's energetic, it's got a happy, cool vibe to it, and I like the lyrics when Rihanna kicks in and starts singing."
"How Deep Is Your Love"
Artist: Calvin Harris featuring Disciples
Album: How Deep Is Your Love
"I love Calvin Harris. He's done some amazing mixes, usually with Rihanna, but other artists as well. He's one of my favorites. It's the steady beat and the way he brings the music alive with the highs and lows and the transitions. There's so much contrast, that you can vibe out really well."
"The Greatest"
Artist: Sia featuring Kendrick Lamar
Album: This Is Acting
"This is kind of a newer one. It's a fun, new jam."
"Side to Side"
Artist: Ariana Grande featuring Nicki Minaj
Album: Dangerous Woman
"I think a track like this is a really good recovery song for just doing some core work. If I just did something crazy and I'm ready to bring it down, I'll skip a track over to something more chill like this; it's a little more dancey, with kind of a reggae vibe. Nicki Minaj is dope, and Ariana has a beautiful voice, so there's a lot of girl power on this track."
"Don't Let Me Down"
Artist: The Chainsmokers featuring Daya
Album: Collage
"I love this song; I actually choreographed a little yoga-influenced workout to it. It's very beautiful and very dancey. This is one I would love to dance to or do some yoga or pilates kind of stuff to."
"Never Forget You"
Artist: Zara Larsson featuring MNEK
Album: Never Forget You
"This one has more of a drop. I like to dance to these [last] two back-to-back."
"Starboy"
Artist: The Weekend featuring Daft Punk
Album: Starboy
"I have some favorites on here that have been out for a while, like my Rihanna songs, but then there are new tracks like 'Starboy' coming in. I try to incorporate some of my favorites, the go-tos that I know can pull me out of a funk if I need more energy and intensity to work out, and the new stuff to get me inspired and motivated. It's a variety."
"My Way"
Artist: Calvin Harris
Album: My Way
"This would be a good for a cooldown or warm-up."
"Wow"
Artist: Beck
Album: Wow
"I have this one as a cool down, or I could do my core work to it. I need something a little bit slower, cooler, a little more chill to help me bring my heartbeat down and get out of the intensity of hard-hitting, loud bass."
"Dancing On My Own"
Artist: Robyn
Album: Body Talk Pt. 1
"Usually for me it's about the beat and the sound and the drive, and less about the lyrics. But there are certain tracks that I really tap into the lyrics. I don't have a ton of [Robyn's] albums, but she has a lot of singles that I like. This is a cool track that I love to dance to. Again, she carries that strong female vibe."
"Alors On Danse"
Artist: Stromae featuring Kanye West and Gilbere Forte
Album: Cheese
"This is a cool dance track as well."
"Famous"
Artist: Kanye West
Album: The Life of Pablo
"All of the Lights" and "Power"
Artist: Kanye West
Album: My Beautiful Dark Twisted Fantasy
"[Kanye's] got some good beats. 'All of the Lights' would be a great track for a dance or something slower like core work or a cool down. 'Power,' that's for towards the end, when it's really tough and you need the heavy stuff to pull you through."