Tuna Noodle Casserole With Veggies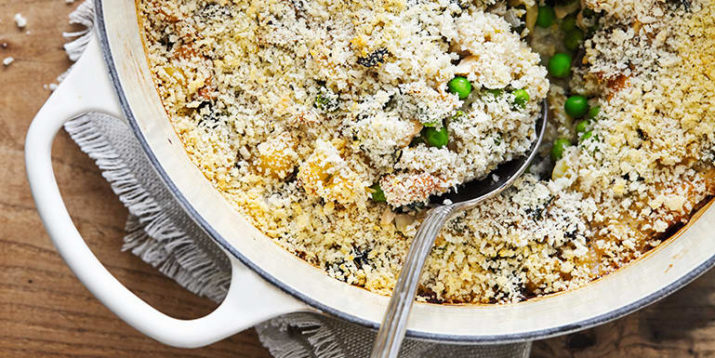 Pasta casseroles are a great way to feed a hungry crowd, because who can say no to hot, bubbly pasta fresh from the oven?!
Unlike most of the fat-laden casseroles out there, this casserole recipe features protein and plenty of fresh veggies.
This Tuna Noodle Casserole with Veggies recipe is a healthier twist on an old favorite that you can probably pull together without an extra trip to the grocery store.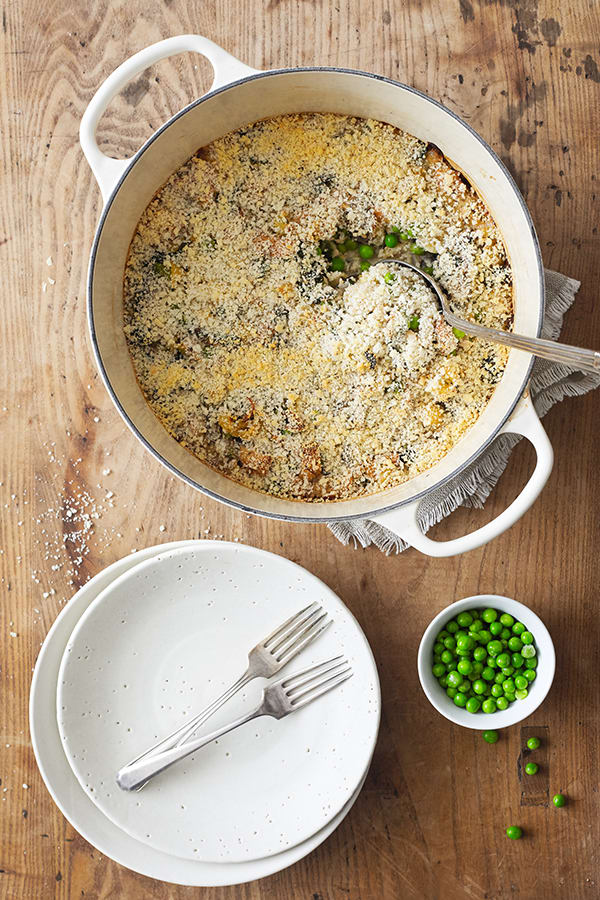 Tuna is the star protein in this recipe. Just crank open a couple of cans, drain the liquid, and sprinkle the tuna into the hot pasta… so easy!
What I love about this recipe is that it's loaded with lots of colorful veggies, including kale, mushrooms, and peas (you can get creative and swap in your favorites, like carrots, peppers, or spinach).
Instead of using gobs of cream and butter and a thickener (or canned creamed soup) to create a creamy sauce, a little bit of olive oil, reduced-fat milk, and a couple of spoonfuls of whole-wheat flour do the trick perfectly here.
And because there are so many delicious fillings in this tuna casserole, you can actually ease up on the amount of noodles.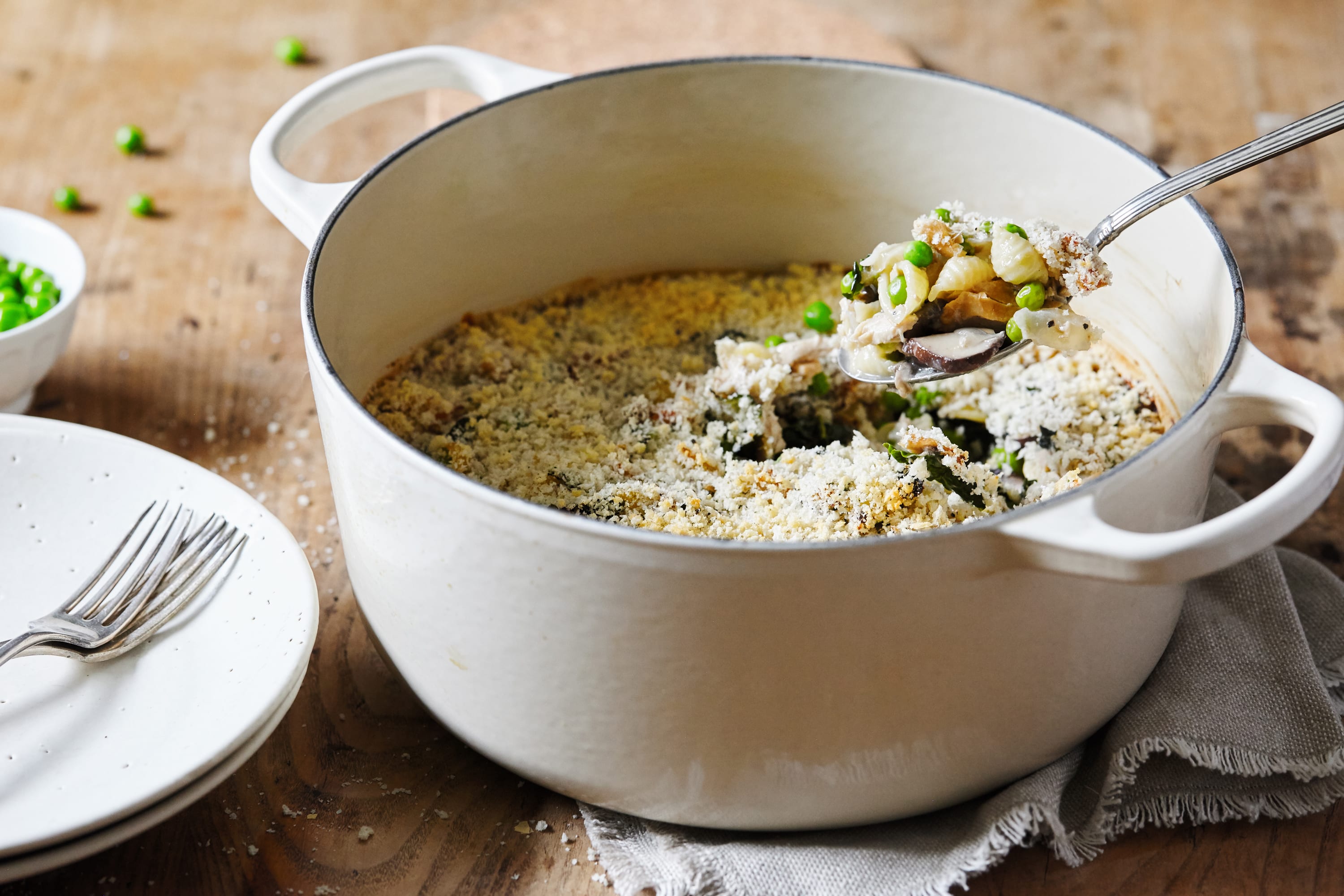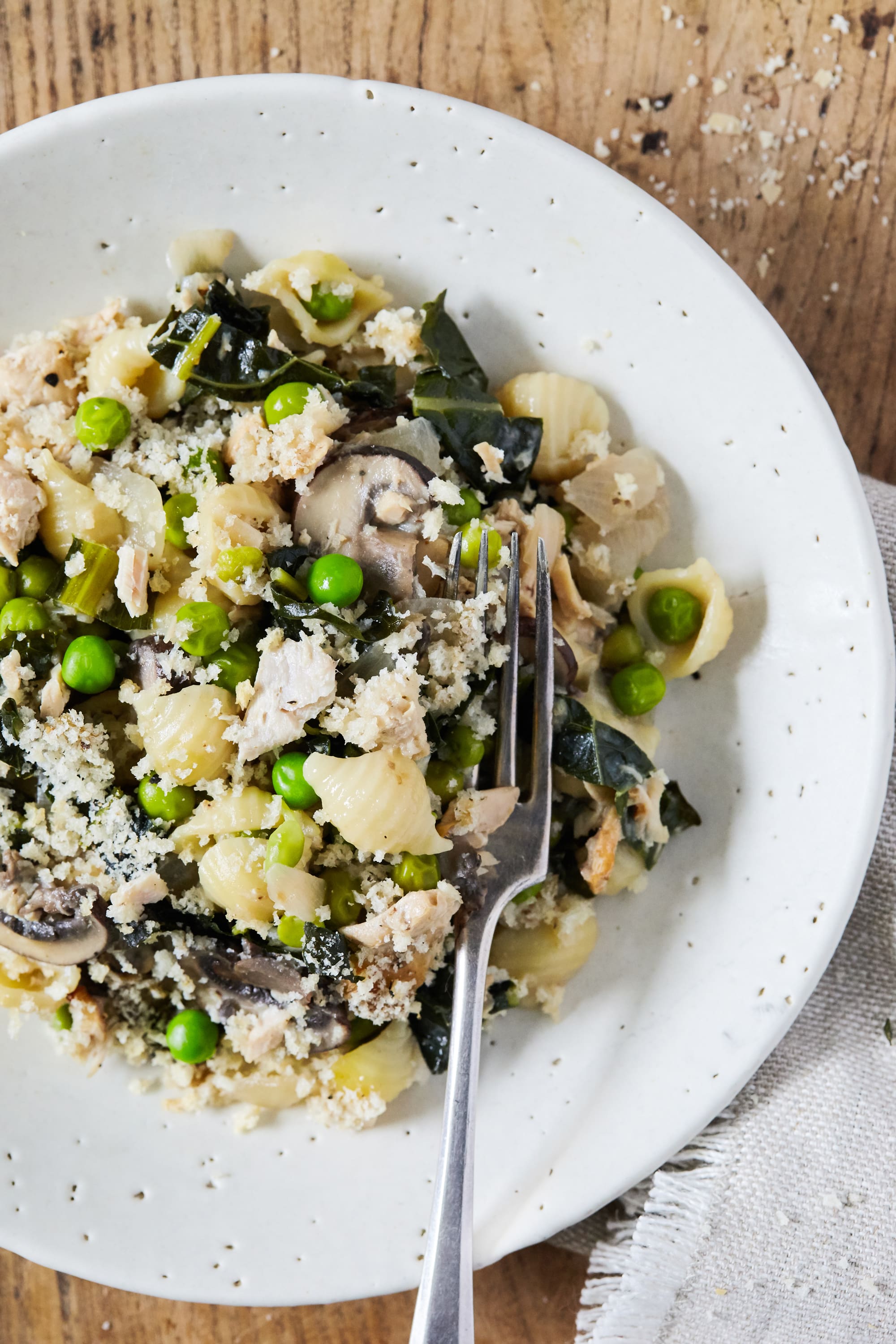 Pro tip: For the best tuna noodle casserole, stop cooking your noodles and drain them when they are still al dente (a little bit firm).
They'll continue to cook in the oven and absorb the flavors of the sauce without becoming mushy.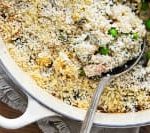 Tuna Noodle Casserole With Veggies
This Tuna Noodle Casserole with Veggies recipe is a healthier twist on an old favorite.

Prep Time 15 mins
Cook Time 1 hr 4 mins
Total Time 1 hr 19 mins
Servings 6 servings, approx. 1 cup each
Calories 236 kcal
Ingredients
4 oz. dry small whole-wheat pasta shells
3 tsp. olive oil, divided use
1 medium onion, chopped
1 cup chopped kale
8 oz. sliced mushrooms
2 Tbsp. whole-wheat flour
1 cup reduced-fat (2%) milk
1 cup low-sodium organic vegetable broth
½ tsp. sea salt (or Himalayan salt), divided use
½ tsp. ground black pepper, divided use
1½ cups frozen green peas
2 cans (6-oz. each) chunk light tuna, packed in water, drained
½ cup whole-grain panko bread crumbs
Instructions
Cook shells according to package directions; drain. Set aside.

Preheat oven to 375° F.

Heat 2 tsp. oil in large nonstick skillet over medium heat.

Add onion and kale; cook, stirring frequently, for 4 to 5 minutes, or until onion is translucent.

Add mushrooms; cook, stirring frequently, for 4 to 6 minutes, or until mushrooms are soft and most of the liquid has evaporated.

Add remaining 1 tsp. oil; cook, stirring frequently, for 1 minute.

Add flour; cook, stirring frequently, for 1 to 2 minutes, or until flour and oil form a paste.

Slowly add milk, broth, salt, and pepper. Bring to a boil, stirring frequently. Reduce heat to medium-low.

Add peas, tuna, and shells; cook, stirring frequently, for 2 minutes.

Place tuna mixture in a 2-quart baking dish. Top evenly with bread crumbs. Bake for 30 to 32 minutes, or until casserole is bubbling and brown.

Serve immediately.
Recipe Notes
High Fiber, High Protein
The Nutrition Facts box below provides estimated nutritional information for this recipe.
Nutrition Facts
Tuna Noodle Casserole With Veggies
Amount Per Serving (1 serving)
Calories 236 Calories from Fat 36
% Daily Value*
Fat 4g6%
Saturated Fat 1g6%
Cholesterol 16mg5%
Sodium 437mg19%
Carbohydrates 31g10%
Fiber 6g25%
Sugar 6g7%
Protein 20g40%
* Percent Daily Values are based on a 2000 calorie diet.
Container Equivalents
½ Green
½ Red
1½ Yellow
½ tsp.
2B Mindset Plate It!
Add a side salad to make a great lunch.
Photographs by Anguel Dimov