The Ultimate Gift Guide for Every Type of Foodie
It's that time of year again when everyone is making a list of who's been naughty or nice to see who deserves a set of tea towels or a wine-of-the-month club subscription.
Ugly Christmas sweaters aside, food-related gifts are always popular because it seems like everyone's a foodie these days. But there are as many different kinds of foodies as there are people, so here's a gift guide for every type in your life.
Gifts for Charitably Minded Foodies
For those who like giving more than receiving, gift them a gift that supports a charity.
1. A gift basket from the Women's Bean Project changes women's lives by employing chronically unemployed and impoverished women, helping them earn life skills. Baskets options include cornbread, soups, dips and chili. ($12+)
2. Bees. OK, maybe not actual bees, but if you want to help save the endangered honeybees — which are essential for production of much of the world's crops — Gather chocolates and gift sets will donate 2.5 percent of proceeds to the Pollinator Partnership, a non-profit organization whose sole purpose is to study and protect pollinators. (prices vary)
3. For every one of these bread-shaped Food for Thoughts Cards purchased (try the holiday pack) the company donates the cash equivalent of one peanut butter and jelly sandwich to a food pantry, soup kitchen, or other organization that feeds the hungry. They have 28,041 PB&J's and counting. ($22 for a pack; $3.25 for individual cards)
4. There's nothing more sacred to a cook than olive oil, so when you gift an Olive Tree Gift Box from Especially Puglia, you're adopting an olive tree and supporting Italian olive farmers and producers. ($160)
Gifts for Foodies With Short Attention Spans
For the foodie who gets bored easily, give the gift of variety. Hello, subscription boxes! (Plus, they're the gift that keeps on giving — bonus!)
5. Caramel-lovers like me would (ahem) appreciate the Twist of the Month club, which sends the lucky recipient a beautifully wrapped box of caramels and chocolates. ($180 for 6 months)
6. Cookie monsters might like The Noshy Box: a new box of handmade, fresh cookies every month for 3, 6, or 12 months. There's even a gluten-free option. ($90 – $170)
7. Send some tea too, with a subscription to the International Tea of the month club. Each month's box includes three fresh teas from Far Leaves Tea's selection of 80 different varieties — and includes invitations to tea parties. ($19 per month)
8. Got a healthy foodie on your hands? Gift a Wellness Tribe Healthy Lifestyle Subscription Box with items ranging from superfoods and organic snacks to green beauty and natural skin care. ($39.95 for month to month; also available in 3- and 12-month options.)
Gifts for International Foodie Friends
9. Try gifting them a subscription to Universal Yums, which sends out a box of snacks and candies from a different country every month, like fried seaweed rolls from Thailand, burned milk wafers from Russia, and edible paper from Germany. ($14 or $25)
10. If you want to gift something a bit healthier but just as exotic, send the Spice Madam subscription, a box filled with spices, recipes and music from a different country every month, as well as cultural facts and travel tips from the destination country, such as Jamaica, Kerala and Vietnam. ($20 – $220)
11. But maybe you should ground your friends and show them what's great about home: The best of artisanal products, "small-batch foods crafted by independent makers from across America" comes in a monthly tasting box from Farm to People. ($29.95 or $49.95)
Gifts for the Boozehounds
12. Your imbibing relatives might appreciate a gift subscription to Shaker & Spoon Cocktail Club, a box that includes three curated recipes for drinks from top bartenders around the world. ($50 per month; available in 3-, 6-, 12-month options.)
13. Throw in a guide to cocktail basics, with Mixology 101 from Deckopedia, which provides 27 starter recipes including classic cocktails, syrups, infusions, and bitters. ($19.95)
14. But for the real deal, get them the Homemade Gin Kit, which only takes 36 hours — no bathtub needed! ($50)
15. For someone who wants to transport their liquor, give them the Vinnibag, a travel accessory that suspends items in a liquid tight air cushion. And it can double as a travel pillow! ($28)
16. What goes better with alcohol than food with alcohol? Send a bourbon-filled chocolate sampler from ArtEatables from distilleries in the Kentucky Bourbon Belt. (prices vary)
Gifts for the DIY Foodie
17. These people spend their time at home, cooking up the perfect meal to post on Pinterest, but may not have all the time in the world around the holidays. Give them a hand with a DIY kit: Try a Paella Kit, an Artisanal Mozzarella & Ricotta Cheese Kit, or a Burrata and Mascarpone Kit. (prices vary)
18. Fermented foods are all the rage, so send your hipster foodie a Kombucha Brooklyn Kit. Spice it up with a DIY Hot Sauce or Tamale Kit. (prices vary)
19. Does it count as DIY if it comes in a box every month? There are plenty of meal-kit delivery services, but gifting a dessert baking box like Rise Baking could really impress. ($30 per box; 3-,6-, and 12-month options available)
20. For the ultimate farm-to-table DIY foodie, get a Churncraft hand-powered butter churn designed for the contemporary kitchen. ($240)
21. If DIY isn't quite their thing, but they love a personal twist? Create a personalized ice cream flavor or some handmade lollipops based on their Ayurvedic Dosha type. (prices vary)
22. For that friend who somehow manages to bring lunch from home every day, a cookbook with a matching portion-control container set will make packing up a meal that much easier and faster. ($19.95, $17.85)
Gifts for Foodies With Kids
23. Who said playing with your food was bad? Try this hysterical foodie face plate, and for the budding mini-baker, a personalized apron. ($12 – $22)
24. Let's face it, kids love everything sweet (who doesn't?) so send a winter hot chocolate package or even a gourmet s'mores kit. ($15-$20)
25. For kids and their parents, try these special mini pies from Peggy Jean Pies in either Mason jars or jelly jars with six tiny forks! (prices vary)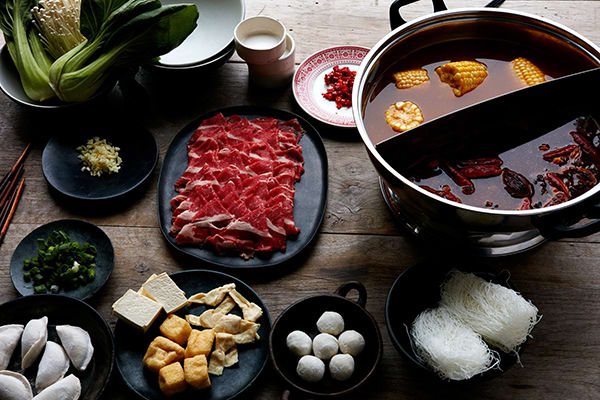 Gifts for the Foodie Experience
26. Studies show that experiences provide more happiness than material goods. That's why you can send something from Cloud 9 Living experience gifts like an afternoon at a brewery, a lunch, dinner, or brunch cruise on a yacht, or a private in-home cooking lesson from a professional chef. ($50 +)
27. Know a foodie who doesn't cook? Send over a dinner party box from Feastive, "the New Dinner Party" food service that offers one-time boxes of exotic dishes, from hotpot to sukiyaki to raclette, for groups to prepare together. (prices vary)
28. If your foodie friends prefer dining out, send them a gift certificate to Fine Diners Over 40 which sends members to highly rated restaurants for dinner in groups of 10. (prices vary)
29. For a truly unique and indulgent gift, send a gift certificate to dinner at Outstanding in the Field, the traveling restaurant without walls that hosts four-course feasts at the source of the food. They have 100+ events across North America. (prices vary)