Shakeology vs. Daily Sunshine: What's the Difference?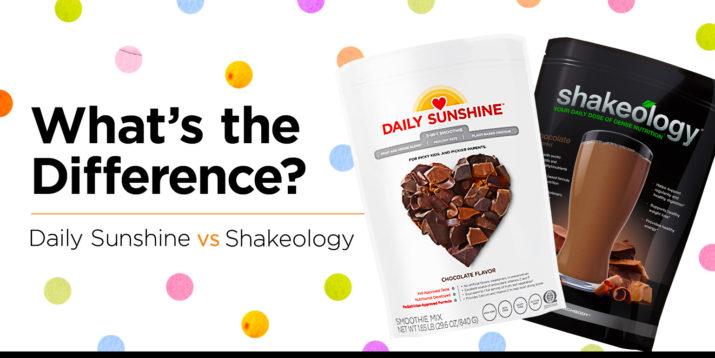 We know what you're probably thinking right now: "What is Daily Sunshine? Who is it for?  What's the difference between Daily Sunshine and Shakeology?"
Keep calm and carry on, Shakeology and Daily Sunshine lovers — we've got the full breakdown between our two smoothies right here:
Who Are These Smoothies Designed For?
Daily Sunshine was designed and formulated for kids. In addition to two kid-approved flavors, it provides the building blocks of nutrition that kids need every day: a fruit and veggie blend, protein, and healthy fats.
Shakeology was created for adults who are looking for a daily dose of dense nutrition that helps provide key nutrients in this stressful modern world, as well as superfood ingredients that have been traditionally used to support a variety of health benefits.
Note: We do not recommend Shakeology for kids.
What Are the Main Differences Between Daily Sunshine and Shakeology?
While they both have unique ingredients, Daily Sunshine and Shakeology contain some overlapping essential ingredients, but at different levels in order to suit the nutritional goal of each.
Daily Sunshine contains a balance of plant-based protein, a fruit and veggie blend, probiotics, fiber, vitamins and minerals that makes it a perfect healthy snack for kids.
Shakeology contains a higher level of protein intended for adult needs. It also balances globally sourced superfoods, botanicals, adaptogen herbs & botanicals, prebiotics, probiotics, fiber, digestive enzymes, vitamins, and minerals.
How Much Protein Does Each Smoothie Contain?
Daily Sunshine has 10 grams of plant-based protein, which is approximately the same amount as a glass of low-fat milk or a couple eggs.
Shakeology has 16 to 17 grams of protein, either from whey isolate and plant-based protein sources or exclusively from plant-based protein sources in our vegan flavors.
How Many Calories Are in Each?
Daily Sunshine contains 120 calories per serving.
Shakeology contains 140-170 calories, depending on the flavor.
Why Are the Container Equivalents Different?
Unless directed by their medical practitioner, children should not be put on calorie- or portion-controlled "diets." Children have unique and changing nutritional needs that differ from adults.
So while the Beachbody Portion Control Containers aren't currently compatible with kids' nutritional needs, the container count for Daily Sunshine is as follows: 1/2 green, 1/2 purple, and 1/2 red.
Shakeology is an "excellent" source of protein as it contains between 16 and 17 grams of protein, and between 140 to 170 calories per serving, depending on the flavor. This makes it perfect for one red container.
It also has a vast array of other nutrients, but given how wide-ranging and exotic they are, they don't fit as neatly into a specific container.
Daily Sunshine contains less protein (10 grams), which is considered a "good" source, so ½ red makes sense. It also delivers the equivalent of a full serving of fruits and vegetables based on USDA guidelines.†
Because this is done using a combination of both fruits and veggies, the most accurate representation is ½ purple and ½ green.
†Concentrated powder equivalent to 1 full serving of fruits and vegetables. 5/8 serving of fruit (Chocolate – 4.45 g dried apple, strawberry, and blueberry powders) (Strawberry Banana – 4.5 g dried apple, strawberry, banana, and blueberry powders) and 3/8 serving of veggies (1.95 g dried sweet potato and spinach powders) per smoothie. Each 28 g serving provides the equivalent of ½ cup fruits and vegetables (volume before drying).
They Both Contain Whole Food-Based Ingredients
The organic whole fruits and vegetables that we put in Daily Sunshine are first inspected and cleaned, then pureed, strained, dried, and ground to a powder. That's how we deliver whole-food ingredients in a healthy, delicious smoothie every day.
Yes, the Shakeology philosophy is to use ingredients that are as close to their natural, whole-food state as possible to help maximize nutrition and still make it convenient so that it can be enjoyed on a daily basis. As a result, Shakeology includes many incredible whole food-based ingredients from around the world that provide a wealth of superfood nutrition all in one shake.
Are Daily Sunshine and Shakeology Both Vegan?
Both Chocolate and Strawberry Banana Daily Sunshine are vegan, soy-free, and dairy-free.
Shakeology has four plant-based flavors that are also dairy-free and formulated without soy: Chocolate, Tropical Strawberry, Café Latte, and Vanilla.
Do They Contain Gluten?
Daily Sunshine meets the gluten-free definition set by the Food and Drug Administration (FDA), which sets a gluten limit of less than 20 parts per million (ppm) for foods labeled "gluten-free."
This limit was established by the FDA since it stated that "most people with celiac disease can tolerate foods with very small amounts of gluten."
Shakeology is formulated without gluten ingredients.
Are They Both Certified Organic?
Daily Sunshine is made with organic fruits and vegetables, and organic pea protein as certified by Quality Assurance International (QAI), a USDA-accredited organic product certifying agency.
Due to Shakeology's global sourcing, certifying every exotic ingredient is very complex. However, the possibility of a completely organic Shakeology is being researched. Stay tuned!