Mediterranean Turkey Burgers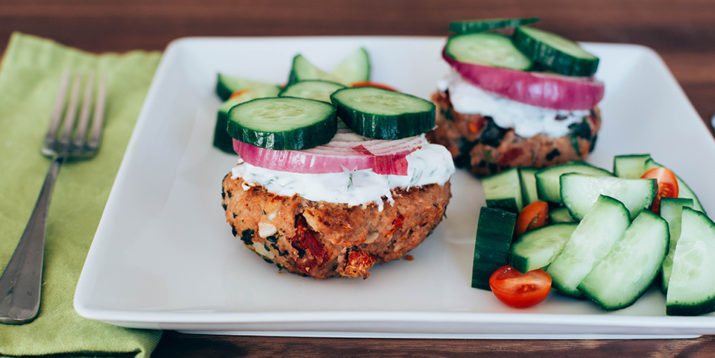 Whether you're a meal-prep newbie or a pro, this is the perfect way to step up your burger game and try something totally different.
These turkey burgers topped with crisp veggies and a tangy yogurt sauce are an exciting upgrade from the average burger patty. Sun-dried tomatoes, feta cheese, garlic, and oregano give them Mediterranean flavor in every bite.
One of the secrets that make these turkey burger patties so good, is the spinach that's mixed in with the meat. Its dark-green leaves add color and lots of phytonutrients, but it's really there to help keep the meat moist and tender as it cooks.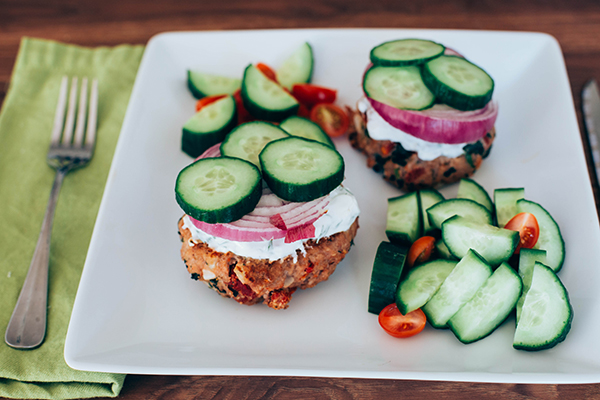 You can also use frozen spinach because it's pre-cooked and you can use only what you need and keep the rest in the freezer for another meal. Thaw it for a few seconds in the microwave, then wrap it in a kitchen towel and squeeze out as much of the excess liquid as you can.
(If you use fresh spinach, toss about two cups of it into a heated skillet coated with nonstick spray and stir for a few minutes until just wilted, then squeeze it as described.)
It may be tempting to buy a jar of plump sun-dried tomatoes packed in oil, but save yourself the extra fat and calories and choose the dehydrated variety. Simply soak the amount you need in hot water for a few minutes before chopping.
Once they're rehydrated, they're just as plump and flavorful as the tomatoes in oil, but they have zero fat.
As flavorful as these turkey burger patties are, it's the toppings that make them stand out from the crowd. The creamy yogurt sauce spiked with lemon, garlic, and dill will make you forget all about ketchup and mustard.
Crunchy onions and cucumber, and the surprising addition of sliced beets give them a full serving of vegetables and make them a filling meal with or without a bun.
Pro tip: You can buy cooked beets in the produce section or deli of many grocery stores, or look for cooked beets in jars or cans.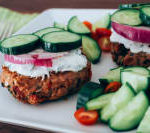 Mediterranean Turkey Burgers
Topped with crunchy veggies and a tangy yogurt sauce, these Mediterranean turkey burgers will fill you up on good stuff without weighing you down.
Prep Time 20 mins
Cook Time 10 mins
Total Time 30 mins
Servings 6 servings
Calories 258 kcal
Ingredients
¾ cup reduced-fat (2%) Greek yogurt
2 Tbsp. fresh lemon juice
2 cloves garlic finely chopped, divided use
¼ tsp. dried dill weed
1½ lbs. 93% lean ground turkey
1 medium red onion thinly slice half, finely chop half, divided use
¼ cup finely chopped sun-dried tomatoes
2 oz. frozen spinach thawed, squeeze out liquid using a kitchen towel, chopped
6 Tbsp. crumbled feta cheese
1 tsp. dried oregano
½ cup whole grain bread crumbs
1 large egg
Sea salt and ground black pepper to taste; optional
1 medium cooked beet sliced thin
¼ medium cucumber sliced thin
Instructions
To make yogurt sauce, combine yogurt, lemon juice, 1 clove garlic, and dill in a small bowl; mix well. Refrigerate, covered, until needed.

Preheat grill or broiler to high.

Combine turkey, chopped onion, sun-dried tomatoes, spinach, cheese, remaining 1 clove garlic, oregano, bread crumbs, and egg in a medium bowl. Season with salt and pepper if desired; mix well with clean hands. Form turkey mixture evenly into six patties.

Grill or broil patties for about 5 minutes on each side, or until no longer pink in the middle.

Serve patties topped evenly with yogurt sauce, onion slices, beet, and cucumber.
Nutrition Facts
Mediterranean Turkey Burgers
Amount Per Serving (1 burger)
Calories 258 Calories from Fat 117
% Daily Value*
Fat 13g20%
Saturated Fat 5g31%
Cholesterol 125mg42%
Sodium 286mg12%
Carbohydrates 8g3%
Fiber 1g4%
Sugar 4g4%
Protein 28g56%
* Percent Daily Values are based on a 2000 calorie diet.
Container Equivalents
½ Green
1 Red
½ Blue
2B Mindset Plate It!
Serve open-faced on a whole-grain hamburger bun with a side salad or veggies for lunch. Serve with veggies for dinner.
Photos by Amanda Meixner