An Inside Look at Vanilla Shakeology
Vanilla. For reasons unknown, this classic flavor gets a bad rap: "that outfit/guy/girl/meal is as bland as vanilla."
In reality, real vanilla (none of that artificial stuff!) manages to be both subtle and full-flavored. And ubiquitous — you can make almost anything with vanilla: Google "recipes with vanilla" and you'll get 35 million results.
For a superfood protein shake like Shakeology to taste like vanilla, an exceptional vanilla flavor must be used. Otherwise, the herbs and wholesome ingredients may drown out the vanilla essence.
That's why the flavor used in Vanilla Shakeology is made from real vanilla sourced from Madagascar, an island off the coast of Africa.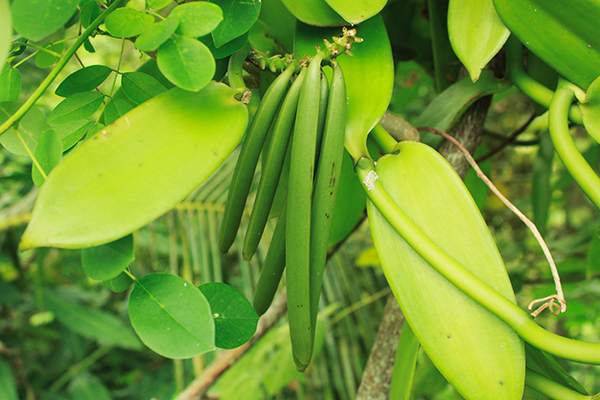 The History of Vanilla
Vanilla, the only member of the orchid species that produces edible fruit, originated 60 to 70 million years ago.
There are more than 150 species of the plant, and while most vanilla used for commercial production today comes from Tahiti, India, and Madagascar (where we source the vanilla found in Vanilla Shakeology), vanilla once thrived along the coasts and in the tropical forests of Mexico and Central and South America.
Looking for flavor
"Vanilla, on its own, is not a strong flavor, whereas cacao is very dominant. You have astringent flavors in Shakeology — the adaptogens, the roots — to cover them. Your average natural vanilla flavor has no chance," says Darin Olien, one of Shakeology's chief architects.
That's why we put so much care into creating all the Shakeology flavors.
We meticulously crafted our proprietary formula with a potent blend of premium proteins, probiotics, fiber, digestive enzymes, antioxidants, superfoods, vitamins, and minerals — including many unique ingredients that are pretty hard to get from the average diet.
Creating Vanilla Shakeology
Once Beachbody finally had a viable vanilla flavor, it was time to test it. Collaborating with Olien, Michael Wilson, EVP of Research and Development, and his team of scientists were able to create the great-tasting Vanilla Shakeology.
This development process and rebalancing of ingredients led to more than a hundred taste tests, as well as challenges to get the color "right." As you may have noticed, Vanilla Shakeology isn't pure white as other vanilla protein drinks out there are.
"That's the protein blend, herbals, whole grains, and seeds like quinoa, chia, flax, and other beneficial ingredients. They are what makes Shakeology work, and we need to make it all work together in harmony," explains Wilson.
That said, some ingredients led to unexpected results: "Beta-carotene (pre-vitamin A) has an inherent variation in color. When we made the first test batch in the plant, we had a reddish-orange product that we didn't see in the lab. When you're getting close to starting production for a very important launch and you have an orange-colored vanilla drink, it's a little bit scary."
They resolved that problem, and at the end of the day, Wilson's team made sure that the texture, color, and aroma all worked together.
The Shakeology Philosophy
We continuously strive to improve Shakeology. We're always on the lookout for new beneficial ingredients and the highest-quality, best-available ingredients in the marketplace.
So, in 2017, we introduced a new Shakeology formulation, which includes:
An improved vitamin and mineral composition based on research conducted by our scientists and nutritionists on common nutrient gaps that people have (whey-based version only)
Key vitamins and minerals are now easier for the body to absorb (whey-based version only)
Added matcha: Matcha is the powdered whole green tea leaf and comes from a family-owned supplier in Japan that is USDA organic certified.
Added chaga: Chaga is a mushroom that's considered an adaptogen. The chaga in Shakeology comes from an American supplier that is USDA organic certified.
Added sacha inchi to Plant-Based Shakeology. Our non-vegan (whey) flavors have always had sacha inchi, which is a superfood native to Peru, but now it's available across the full Shakeology product line.
Plant-Based Vanilla Shakeology
The plant-based, 100% vegan versions of Shakeology are the first to feature the Shakeology reformulation with additional adaptogen and phytonutrient ingredients. (Don't worry, it still has the same great taste you know and love!)
Plant-Based Vanilla Shakeology contains a proprietary blend of plant-based proteins to support health and vitality.*
The vegan protein comes from chia, pea, flax, sacha inchi, quinoa, rice, and oat, which deliver all nine essential amino acids your body needs but can't produce on its own.
Vanilla Shakeology Recipes
Because of its subtle flavor, you can use Vanilla Shakeology in an almost endless number of recipes. Get some delicious recipe ideas here:
Vanilla Birthday Cake Shakeology
Vanilla Shakeology Macadamia Nut Energy Balls
The Bottom Line
Beachbody Experts spend thousands of hours on research, formulation and quality assurance so customers can trust the effectiveness of Shakeology and know that it is of premium quality.
Sourcing vanilla was an adventure that was more challenging than expected, but it was well worth it.
When you start your day with Shakeology, you're investing in yourself and your health, knowing that it builds a strong nutritional foundation that can help reduce cravings, provide healthy energy, support digestive health, and just plain help you feel better.*
And when you feel better, you do better, making smarter choices and taking on bigger challenges.
*These statements have not been evaluated by the Food and Drug Administration. This product is not intended to diagnose, treat, cure, or prevent any disease.