We Tasted 20 Healthy Fall Snacks – See Our Favorites!
It's fall — the season of getting cozy on the couch with a mug of tea, jumping into leaf piles, and enjoying crisp autumn air. Of course, it's also the season of pumpkin spice lattes, pumpkin Oreos, caramel apples, and a cornucopia of other enticing, gut-busting indulgences. Are there any healthy fall snacks worth considering for the nutritionally inclined? We searched store aisles and ate through mountains of pumpkin-flavored goodies to compile what follows: The ultimate guide to the healthier foods of fall. Read on for what's good, what's not, and what's so gross you wouldn't even feed it to Maleficent. Bon appetit.
Meet the testing crew:
Denis Faye: Beachbody Senior Director of Nutrition Content
Ani Aratounians: Beachbody Senior Manager of Culinary Development
Wynne Nord: Beachbody Recipe Editor
Rebecca Swanner: Managing Editor of Beachbody Blog
Trevor Thieme: Beachbody Fitness and Nutrition Content Manager
Kirsten Morningstar: Senior Editor of Beachbody Blog
Hannah Rex: Editorial Assistant of Beachbody Blog
Bill Morton: Associate Manager, Email Marketing
A note on the health grades: You'll find quite a few A-'s on the list and one A. Remember, to consider these as treats—the foods below shouldn't be mainstays in your diet, but rather indulgences to be enjoyed occasionally. 
BREAKFASTS
Trader Joe's Pumpkin O's
We admit, this is not the healthiest cereal on the market, but it was the one of the few vaguely nutritious pumpkin-flavored ones we could find. The ingredient list starts out strong with brown rice, but then stumbles with 9 grams of sugar (mostly from added sugar) per 1 cup serving.
Denis: It's just another sweet cereal. Even with whole grain brown rice it only has 1 gram of fiber.
Wynne: It has too much artificial cinnamon flavor and is nutritionally bankrupt.
Trevor: It tastes awesome, but I can almost feel my blood sugar spiking.
Rebecca: They remind me of Froot Loops. They mostly taste like cinnamon though, not pumpkin.
Kirsten: No.
Hannah: I could easily eat too much of this.
Grade: D for health, A/B for taste
Siggi's Pumpkin & Spice Skyr
If you've never had it before, skyr is a thick, creamy, tart Icelandic yogurt. It's like a beefed up version of Greek yogurt.
Denis: It seems more like a spread than a yogurt. I wonder if it would be any good without the added sugar?
Wynne: It has a sharp, tart flavor, and like other skyrs, it's very thick.
Trevor: It has the taste and consistency of spoiled cheesecake.
Hannah: It's very thick, but would be great as a spread on a raisin bagel.
Grade: C+ for health, B for taste
Dreaming Cow Maple Ginger Yogurt
This organic, grass-fed cream on top yogurt should have appealed to our health-conscious tasting panel. Unfortunately, it did not.
Denis: It tastes like cheese.
Trevor: Where's the ginger?
Rebecca: This has a really sharp taste that's almost like sheep's yogurt. Worse, there's no ginger flavor.
Hannah: I don't taste maple or ginger. Was the cow dreaming of other flavors?
Grade: C- for health, D for taste
Nature's Path Pumpkin Spice Waffles
Sorry gluten-free folks. These waffles just didn't make the grade.
Denis: The problem with a lot of gluten-free baked goods is that they're made with "whole grains", but those grains are super low in fiber. Case in point…
Ani: The texture is too mushy.
Rebecca: They're very chewy and hard to swallow. I've had incredible gluten free pancakes and waffles before. These are not those.
Hannah: The cinnamon smell is amazing, but the flavor is a bit bland. That said, I wouldn't say no if someone made these for me.
Grade: C+ for health, B for taste
SNACKS
Engine 2 Apple Pumpkin Granola
We had such high hopes for this offering from former Austin, Texas, firefighter and author of The Engine 2 Diet. It's made entirely from whole foods, and was one of the healthiest granolas of the bunch. We really wanted to like it! Unfortunately, our tastebuds couldn't get on board.
Wynne: It tastes like asphalt.
Denis: You've tasted asphalt? I have, and this is worse.
Ani: Are these stale? I can't taste the pumpkin, but I can say it's horrible.
Kirsten: It tastes like hamster bedding.
Grade: A- for health, F for taste
Bear Naked Sea Salt Caramel Apple Granola
When we first opened the bag, we were a little concerned by its distinct potpourri aroma. But once we got a handful in our mouths, we were hooked. The salted caramel chunks added a pleasant saltiness and the crunchy, dried apples were perfectly seasoned.
Kirsten: I would eat this. It tastes like a grown-up, healthier version of Quaker Instant Apple Cinnamon Oatmeal.
Hannah: I love the apple pieces, but I'd eat something with it to cut the strong spice flavor.
Bill: It's very sweet and the apple and caramel pieces are a little much. It's also too salty.
Grade: C for health, A for taste
PaleoKrunch Apple Pie Grainless Granola
This Paleo granola bills itself as "a perfect blend of nuts, apples, and warm spices. Just like mom's apple pie—without the guilt." They were right. It was made from healthy ingredients. If only it behaved more like granola.
Trevor: No crunch. No good.
Rebecca: I feel like I just ate right out of the spice jar.
Kirsten: I'm surprised by how much I like this. I can taste all of the ingredients and they all taste wholesome in a good way. But, it's not granola, and it's not crunchy.
Hannah: It has a soggy texture but a good natural flavor. But, don't deceive me by calling it apple pie. That's just offensive.
Grade: A- for health, C for taste
Simple Squares Organic Nutrition Bar – Cinna-Clove
These Paleo, organic, non-GMO, gluten-free bars are made from the following ingredients: cashews, almonds, honey, coconut, vanilla, sea salt, cinnamon, and cloves. It should taste like fall (in a good way). It didn't.
Wynne: It tastes like an overripe banana. It also tastes fermented.
Trevor: I want to wash my mouth out. Awful.
Rebecca: It's sour?! It's sour!
Hannah: Get it out of my mouth!
Grade: B+ for health, F for taste
Lara Bars
Lara Bars are sweetened with dates and are often praised for their minimal ingredients. But, do their flavors hold up?
Apple Pie
Denis: It's OK. There's an apple aftertaste.
Wynne: There's a disappointing level of spice. But I like the cinnamon at the end.
Trevor: It tastes like apple pie slices.
Hannah: I'd rather just eat an apple. The walnuts are too chunky, and they dry it out.
Grade: A- for health, C for taste
Pecan Pie
Denis: It just tastes like the dates that sweeten it, which is a great alternative to added sugar, but still basically just sugar.
Wynne: There's no pecan pie flavor at all!
Bill: It's slightly sweet, but not too sweet. It doesn't taste like pecan pie.
Hannah: It smells like brown sugar but tastes like an average, store-bought pecan pie.
Grade: A- for health, C for taste
Pumpkin Pie
Denis: It's moist but not too dry and not too sweet. Love the spice.
Trevor: It lives up to its name. Super tasty.
Bill: Woo-hoo! Finally! Something that tastes like pumpkin.
Rebecca: Why is pumpkin so difficult? I really hate the spice mix they used.
Hannah: It's too sweet — even for pumpkin pie.
Grade: A- for health, B for taste
Super Seedz Gourmet Pumpkin Seeds
We tried three different varieties of these flavored pumpkin seeds. They're seasoned with easy-to-pronounce ingredients and while they're certainly not low calorie (1/4 cup equals about 160 calories), pumpkin seeds are good for you, and if enjoyed in moderation, make for a great snack or salad topping.
Curious Curry:
Denis: Awesome that they rely on the spice for flavor. No sugar and almost no salt.
Hannah: They remind me of sitting and watching a baseball game. Strangely, the curry flavor somehow makes them taste like sunflower seeds.
Kirsten: I'm curious where the curry flavor is, but I like pepitas, so I like these. The dry-roast makes them perfectly crunchy.
Trevor: These would be great on a salad.
Grade: A for health, A for taste
Super Spicy:
Denis: HOT! [Proceeds to guzzle water for the next few minutes]
Trevor: They get the adrenaline pumping. Awesome.
Bill: Nice spicy kick, but I can see it becoming overwhelming. Wait…there it is. I have heartburn.
Hannah: These are too hot and not good for snacking.
Grade: A- for health, B for taste
Coco Joe
Trevor: They taste like Cocoa Puffs. I'd eat these all day long.
Hannah: I could snack on this all day.
Wynne: Sweet and salty. Light chocolate flavor.
Ani: Very good balanced flavors of cocoa and coffee.
Grade: B+ for health, A for taste
Trader Joe's Fall Harvest Salsa
Trader Joe's has great salsas. They go great on baked tortilla chips or with slices of raw veggies. This one was made with butternut squash, pumpkin, and apples.
Denis: Yummy but not very pumpkin-y. Also, salt is low on the list, but it'll add up if you eat a realistic amount.
Trevor: I don't taste the pumpkin or the squash, but I like the salsa.
Rebecca: Their peach habanero is better, but not a bad salsa.
Hannah: This is what "fall" tastes like in LA.
Grade: A- for health, A- for taste
Trader Joe's Pumpkin Butter
Thought it's classified as a "butter," the second and third ingredients are sugar (in this case, sugar and honey, respectively). But, when it comes to sweet treats, it's far from being the worst offender out there.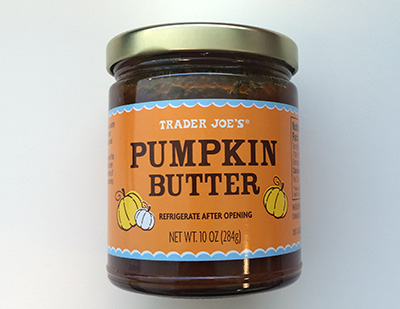 Denis: It's fine for, you know, a jar of sugar.
Ani: Great flavor, but the spices overwhelm the pumpkin and it's too sweet for my taste.
Trevor: I'd eat this by the spoonful. Delicious.
Rebecca: Would be excellent on chicken. It's very fall.
Hannah: One bite makes you feel like it's fall. Let's ignore the fact that it's 80 outside and break out the flannels!
Grade: D for health, B for taste
DRINKS
Califa Pumpkin Spice Latte Cold Brew Coffee with Almond Milk
The PSL is the quintessential fall food — within the last few years, at least — so how does this one hold up?
Denis: Tasty, but it has more calories than a Coke by volume.
Ani: It tastes more like a chai latte.
Trevor: It tastes like eggnog. I'm not a fan of eggnog.
Bill: It doesn't taste like pumpkin, and it doesn't taste like coffee.
Hannah: Blech! Perfect for anyone who wants PSL flavor and none of the coffee taste.
Grade: C- for health, C for taste
Celestial Seasonings Apple Spice Tea
The company claims this has delicious apple taste. We liked it (with one vocal exception), but wouldn't exactly describe it as "delicious."
Trevor: Nasty. I'd rather drink the latte.
Rebecca: This smells incredible. It's like I'm back at the cider mill.
Hannah: It tastes like red hots.
Kirsten: I didn't think I was going to like this but I do. It tastes very seasonal and would be a good alternative to apple cider if I wanted something calorie-free.
Grade: A for health, B for taste
Trader Joe's Pumpkin Spice Rooibos
For a guiltless way to enjoy the flavor of fall, we thought this might be a good option. Nope.
Trevor: Good in a very average way. I'd drink it again, but I'd never buy it.
Rebecca: Well, the tin is nice and it smells great, but the tea itself is too mild.
Hannah: It has a weird color and tastes like fake pumpkin flavor.
Grade: A for health, C for taste
Almond Dream Pumpkin Spice with Cinnamon
"Taste the dream" is their slogan. Oh we tasted. They probably wish we hadn't.
Denis: Guess what? This stuff only has ten more calories than regular almond milk. It's good to add to Shakeology, but you shouldn't be drinking it alone.
Ani: The candy flavor and the color are just yuck.
Wynne: The color is hideous and it tastes like cinnamon red hots.
Rebecca: This stuff is neon orange. It's the same color as American cheese. And it's bitter!
Hannah: It's like a pumpkin vomited up a bag of cinnamon potpourri.
Grade: C- for health, F for taste
Final thoughts: Companies have a hard time creating pumpkin spice and fall apple products that are healthy, made from whole ingredients, and tasty. For the most part, the healthiest options failed the taste test. Which isn't to say you should run out and buy Pumpkin Spice Oreos, because there were a few winners:
Lara Bars' Pumpkin Pie bar
Trader Joe's Fall Harvest Salsa
Super Seedz Gourmet Pumpkin Seeds
Save