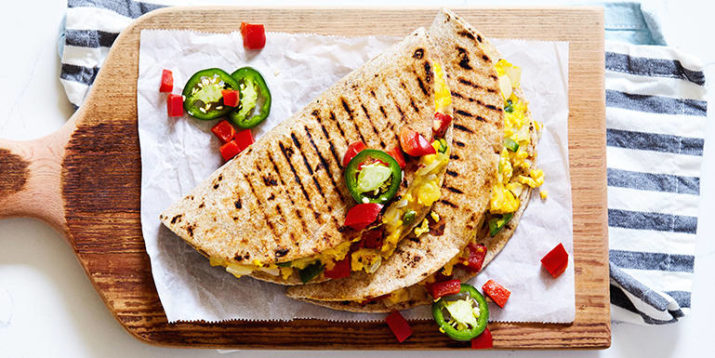 These breakfast quesadillas are absolute lifesavers (and time-savers!) in the morning.
Once you've prepped these breakfast quesadillas, it takes literally takes seconds to grab one out of the fridge and heat it up.
And the flavor… I mean, who can resist colorful veggies, protein-packed eggs, and melted cheddar cheese?!
It's basically a grilled cheese with boosts of protein and a little fiber. Even picky kids can get on board with this dish!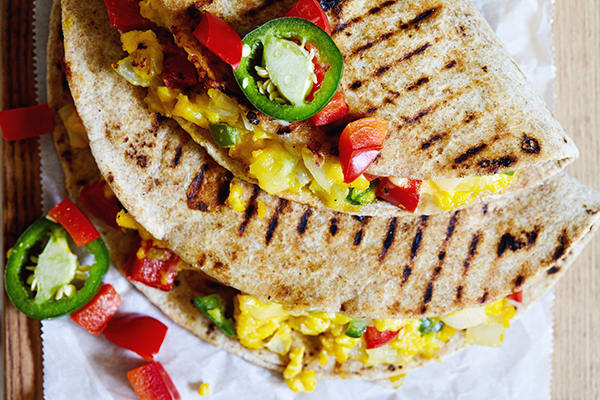 It's quite easy to whip up these breakfast quesadillas, and, if you're a fan of meal prep, making several of these in advance will save you tons of time during the week.
You can make up a batch on the weekend (or weeknight), and then refrigerate extras to eat during the week.
Start by sautéing the fresh veggies, and then add in the eggs and cook until set.
This recipe calls for a mix of whole eggs and egg whites, which delivers all the taste and protein, but slightly cuts down on the cholesterol, fat, and calories.
The delicious mixture is then tucked into whole-wheat tortillas and topped with cheese.
Another visit to the pan helps to crisp up the outer edges of the tortilla and melt the cheesy deliciousness inside.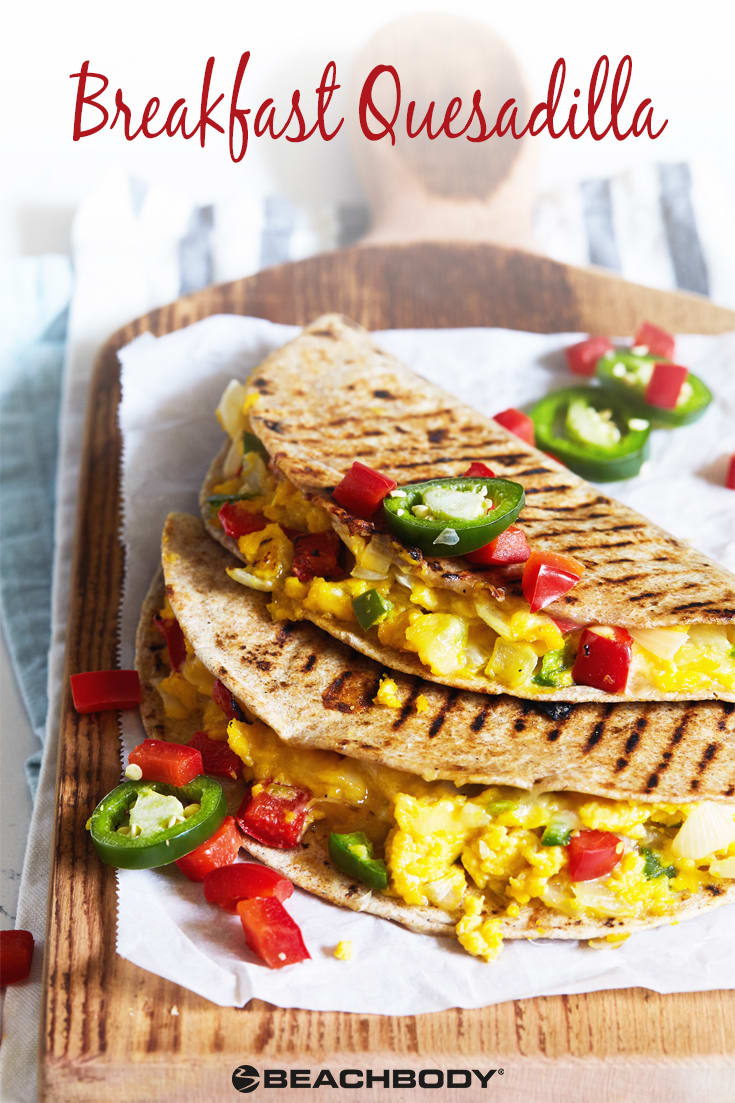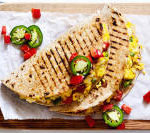 Breakfast Quesadilla
These breakfast quesadillas are easy to prep and are a great grab-and-go breakfast during the week!
Prep Time 15 mins
Cook Time 15 mins
Total Time 30 mins
Servings 4 servings, 1 quesadilla each
Calories 301 kcal
Ingredients
2 tsp. olive oil
1 medium onion chopped
1 medium red or orange bell pepper chopped
2 medium jalapeños seeds and veins removed, finely chopped (optional)
3 large eggs lightly beaten
4 large egg whites ½ cup
4 8-inch whole wheat tortillas
½ cup shredded cheddar cheese
Instructions
Heat oil in medium nonstick skillet over medium-high heat.

Add onion, bell pepper, and jalapeños (if desired); cook, stirring frequently, for 4 to 5 minutes, or until onion is translucent. Reduce heat to medium-low.

Add eggs and egg whites; cook, stirring frequently, for 4 to 5 minutes, or until eggs are set. Remove from heat.

Top each tortilla evenly with egg mixture and cheese.

Fold each tortilla in half; cook in medium nonstick skillet over medium-high heat, for 4 to 5 minutes, turning once, until cheese is melted and tortilla is golden brown.

Tip: You can cook quesadillas you are going to eat or serve, and you can tightly wrap the others and refrigerate for 3 to 4 days (or freeze them). This is a great way to have breakfasts prepared in advance.
Nutrition Facts
Breakfast Quesadilla
Amount Per Serving (1 quesadilla)
Calories 301 Calories from Fat 126
% Daily Value*
Fat 14g22%
Saturated Fat 5g31%
Cholesterol 152mg51%
Sodium 472mg21%
Carbohydrates 28g9%
Fiber 4g17%
Sugar 5g6%
Protein 16g32%
* Percent Daily Values are based on a 2000 calorie diet.
Container Equivalents
½ Green
½ Red
1½ Yellow
½ Blue
½ tsp.
2B Mindset Plate It!
Makes a great breakfast option.
If you have questions about the portions, please click here to post a question in our forums so our experts can help. Please include a link to the recipe.
Photographs by Anguel Dimov and Brianne B of Natural Girl Modern World