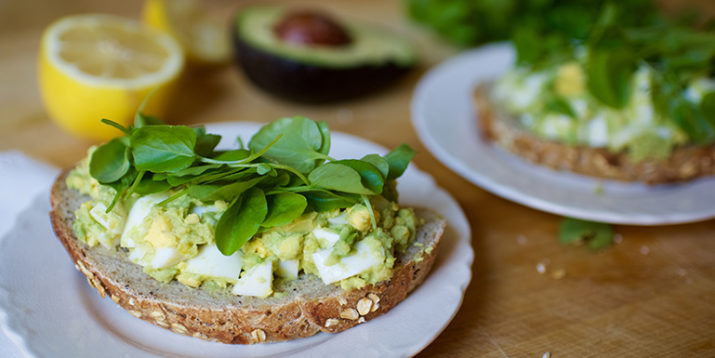 Egg salad is one of those tricky foods that seems healthy — it's made from eggs and it's got the word "salad" right there in the name.
But mayonnaise is the glue that holds it together and turns it into the creamy spread you know and love.
But you know what makes a great substitution for mayo? Mashed avocado.
It provides the same creamy texture, with a healthy dose of monounsaturated fat (that's the good kind) and gives you another twist on avocado toast. We added lemon juice to bring a touch of bright acidity to the dish and to help prevent the avocado from turning brown.
To add a finishing touch to this dish, we topped the Egg Salad Avocado Toast with a small handful of watercress, the delicate leaves and crunchy stems of which add a peppery flavor.
Watercress is so good for you, it earned the top spot as the Centers for Disease Control and Prevention's most nutrient-dense fruit or vegetable most strongly associated with reduced chronic disease risk.
If you can't find watercress, substitute arugula or baby spinach, which also made the list.
Here are a few other variations to try: Dress up the avocado egg salad with some fresh, cracked pepper or a sprinkle of smoked paprika. Cut up some cherry tomatoes, green onions, or jalapeño slices and throw them into the mix.
Swap out the toast for a whole grain tortilla and top it with salsa.
Skip the toast and dip into the salad with whole-grain crackers, endive leaves, or celery stalks.
Going grainless? Enjoy it in lettuce cups!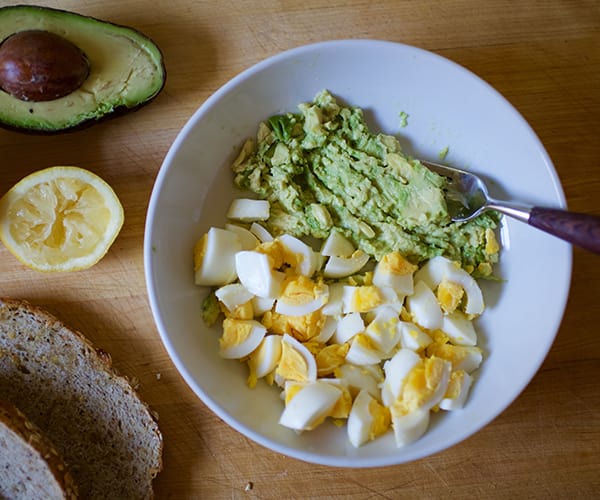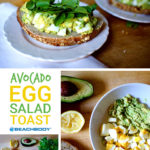 Avocado Egg Salad Toast
Prep Time 10 mins
Cook Time 0 mins
Total Time 10 mins
Servings 4 servings
Calories 318 kcal
Ingredients
8 large hard-boiled eggs coarsely chopped
1 ripe medium avocado slightly mashed
2 Tbsp fresh lemon juice
½ tsp sea salt (or Himalayan salt)
4 slices low-sodium sprouted whole-grain bread toasted
1 cup watercress
Instructions
Combine eggs, avocado, lemon juice, and salt in a medium bowl; mix well.

Spread ¼ of egg mixture onto each slice of toast.

Top evenly with watercress.
Nutrition Facts
Avocado Egg Salad Toast
Amount Per Serving
Calories 318 Calories from Fat 171
% Daily Value*
Fat 19g29%
Saturated Fat 4g25%
Cholesterol 373mg124%
Sodium 416mg18%
Carbohydrates 21g7%
Fiber 6g25%
Sugar 2g2%
Protein 18g36%
* Percent Daily Values are based on a 2000 calorie diet.
Container Equivalents
1 Red
1 Yellow
1 Blue
2B Mindset Plate It!
A great breakfast option. Add veggies or a side salad for lunch.
If you have questions about the portions, please click here to post a question in our forums so our experts can help. Please include a link to the recipe.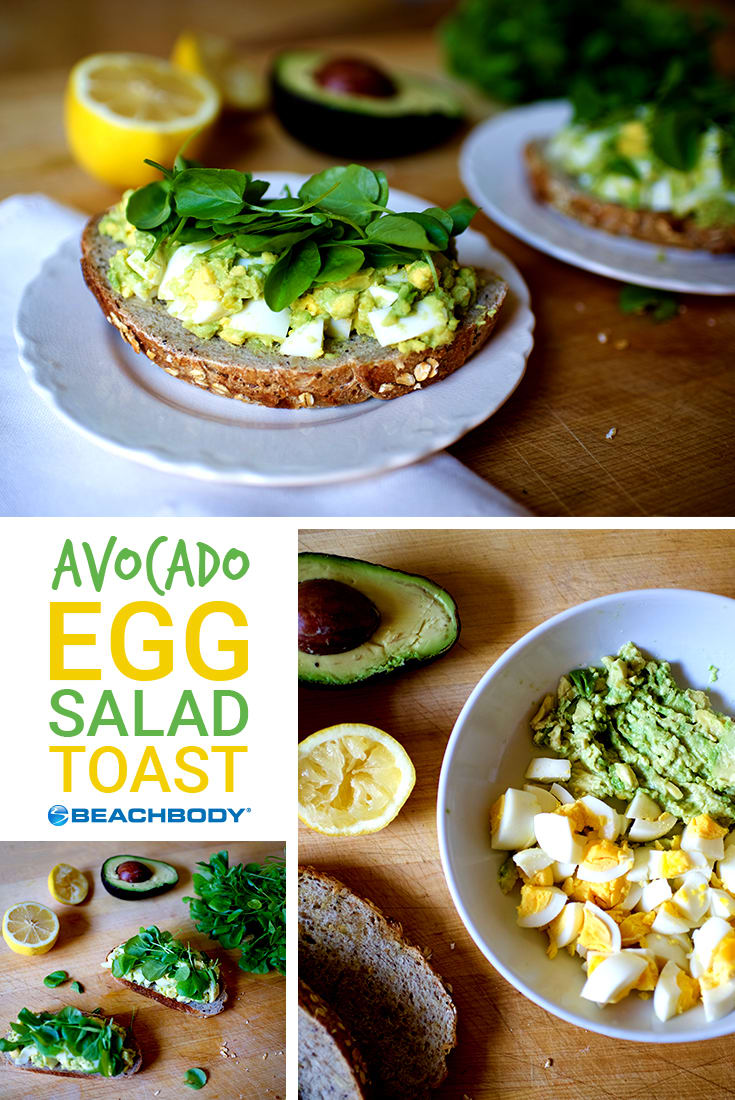 Photos by Kirsten Morningstar