How to Avoid 10 Common Workout Mistakes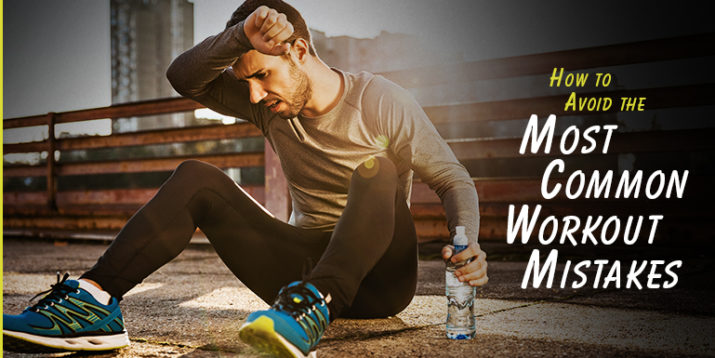 Designer water bottles. Pre- and post-workout supplements. Two-hundred-dollar shoes.
When you're new to exercise, sometimes the hardest part isn't the workout itself — it's all the details around it.
That's why we asked six fitness and nutrition experts for their tips to avoid some of the most common workout mistakes.
From what you should be eating before a workout to what you should be wearing, dodging these fitness fails won't just make you look like a pro, it'll make your workout routine more effective, too.
1. Wearing the Wrong Shoes
"There are different shoe types for a reason. Tennis demands a lot of side-to-side movement, running on a trail requires [enhanced stability and grip], and you'll probably be doing some vertical jumping when you play basketball. If you're wearing training shoes with little to no support when you're running around a tennis court, you're more likely to get an injury in your foot or ankle. Getting the right type of shoe for your sport will help you stay with it for much longer." — Alicia Clinton, Ohio-based ACE personal trainer and Pilates instructor
2. Wearing the Wrong Clothes
This tip is my own, as it's one workout mistake I learned the hard way.
Wearing baggy cotton T-shirts and sweats seems like a great idea (you get to hide your body, and hey, they're comfy!), but there's a reason everyone else in yoga class is wearing technical fabrics: Cotton holds sweat close to your body; technical fabrics wick it away.
You don't have to buy anything that's form-fitting or expensive, but wearing clothes made from technical fabrics engineered for exercise instead of pajamas or old sweats will help you be more comfortable.
And if you feel good, you'll be more likely to stick with your workout routine.
Pro tip: The Activewear Essentials collection features pieces made from breathable, sweat-wicking, and squat-proof fabrics.
3. Pushing Your Body Past Its Limits
This one sounds like a big "duh," but it's surprising how many people get into a gym for the first time in months (or years) and attack the cardio machines or weight rack like their hiatus never happened
Take a knee, champ.
"When you're just beginning a workout routine, it's important to know that your body needs time to adjust to your new activity level. With time, our bodies can become quite well adapted (to any routine), but the key for long-term success — physically and mentally — is to start small and work toward your goal. Injuries can happen if you go all out right away, which in turn can lead to feelings of frustration that don't help your cause." — Clinton
4. Not Hydrating Properly
Everyone knows they're supposed to stay hydrated. But a lot of people don't know how to do it right.
A good way to gauge how much water you need is by weighing yourself. Check your weight before and after you work out, and replace that loss.
So if you weighed 150 before you started your Morning Meltdown 100 workout, and you weigh 149 afterward, drink 16 ounces of water. For endurance athletes or during extreme exercise of 30 minutes or more when you're sweating a lot, use that same fluid requirement but include electrolytes — the best is a low-sugar option like Beachbody Performance Hydrate.
"If you're doing something like a 30-minute walk, you don't need any of this. If you go on a 30-minute run [or do an intense 30-minute workout], you might need that extra hydration. And if you're taking a 105-degree hot yoga class, you need to replenish fluids and electrolytes." — Paige Benté, M.S., R.D.
5. Not Timing Your Workouts With Your Eating Habits
Would you take your car out on a long road trip without first filling up the tank? Of course you would!
That's why you have to bum everybody out 20 minutes after leaving by pulling over to stop at Gas-N-Cigs.
In the gym, this is just as big a choke.
"You want to make sure you have enough fuel to support your workout. At least an hour before, have a small snack with easy-to-digest carbs. When in doubt, reach for a piece of fruit or veggies and hummus — something that will sit light in your stomach." —  Olivia Wagner, Chicago-based RDN, LDN, personal trainer and certified health coach
And don't forget to eat after your workout, too. You need to give your muscles the nutrients they need to grow and repair, and if you're doing endurance work, you also need to replenish your glycogen stores.
Beachbody Performance Recover supports this process, containing 20 grams of protein and just the right amount of carbs along with pomegranate extract to help reduce exercise-induced soreness.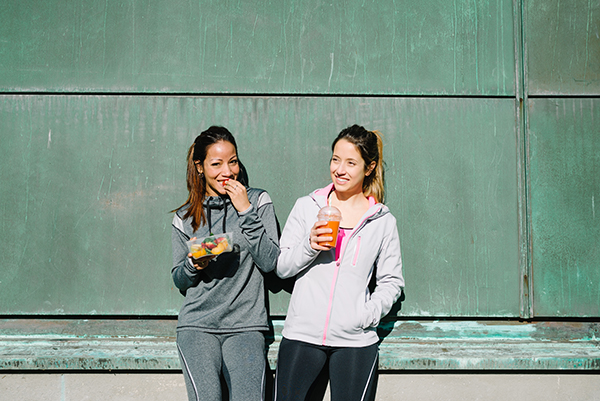 6. Ignoring the Importance of Diet in General
You've likely heard the adage, "You can't outrun a bad diet."
It's true, so heed the advice to avoid one of the most common workout mistakes. If your eating habits aren't aligned with your fitness goals, you'll never hit them.
Step one in upgrading your diet is to reduce your consumption of added sugar — according to the government's Dietary Guidelines for Americans, such foods should comprise no more than 10 percent of your diet.
"Many active people eat too many carbs — especially simple carbs like sugar — and don't pay nearly enough attention to fat and protein. Make sure every meal contains a balance of protein, fat, and fiber. Neglecting these suggestions will yield poor blood sugar control, higher insulin levels, increased fat storage, and decreased fat burning." — Bob Seebohar, M.S., R.D., C.S.S.D., C.S.C.S., a sport dietitian and owner and founder of eNRG Performance
Want to make things easy on yourself?
Beachbody's Portion-Control Containers make it simple to figure out how much you should eat of different food types, helping you consume just the right amount of protein, veggies, carbs, and more, depending on your body type and goals.
Pro tip: If you don't know where to start, Beachbody's Ultimate Portion Fix and 2B Mindset nutrition programs teach you what healthy eating looks like and provide you with the tools to establish healthy eating habits for life.
7. Only Focusing on the Muscles You Can See
In the pursuit of head-turning muscles, many people focus only on those they can see in the mirror — pecs, shoulders, arms, and abs.
Since most people are already "anterior dominant" — meaning they more frequently use the muscles on the front of their bodies — such one-sided training often worsens existing postural and performance issues.
"Overemphasizing the front side of your body can lead to muscular imbalances, a hunched posture, and an increased risk of injury." —Yunus Barisik, C.S.C.S., author of the blog, Next Level Athletics
To balance your upper body, perform two pulling exercises (chin-up, row) for every pushing exercise, such as the overhead press or bench press.
To balance your lower body, perform two sets of hamstring-dominant exercises, like the deadlift or kettlebell swing, for every set of a quad-dominant exercise, like the squat or lunge.
After a few months (read: once your posture and musculature balance out), you can switch to one-to-one ratios, says Barisik.
8. Skipping the Warm-Up and Cooldown
It's great that you're excited to get to your workout, but a warm-up shouldn't be optional.
Before you jump into beast mode, take a few minutes to get your body ready for an intense workout with an active warm-up that includes dynamic (movement-based) stretching, which can help improve performance and prevent injury.
Once you finish the final rep at the end of your workout, cool down with a few minutes of stretching, foam rolling, or both.
"Warming up before a workout will help your muscles be ready to work harder and faster, and getting stretches in after a workout as you cool down will help accelerate recovery." — Clinton
9. Skipping Recovery Days
If you think recovery days are only for the weak, think again. They're actually a crucial part any fitness regime.
"Our bodies, like our minds, need rest. Just like we go to sleep every night, we need time to relax our bodies. Exercise is stressful, and if we don't allow ourselves to recover — no matter how well we're eating or exercising — we're not going to get stronger." — Wagner
"Muscles don't grow during workouts, they grow between them. That's one of the primary reasons why recovery days are just as important as workout days — the latter provides the stimulus for growth, and the former provides the opportunity for it to happen. Also, if you never give your body sufficient time to recover, not only will your workout performance suffer, but you'll also shortchange your results and increase your odds of injury." — Trevor Thieme, C.S.C.S. and Beachbody's senior manager of fitness and nutrition content
10. Doing the Same Workout Every Time
After searching tirelessly for a mode of exercise you actually enjoy, it can be a relief to finally find the right one. But beware!
Comfort can be the enemy of progress. Doing the same exact workout all the time, whether that's running the same route at the same pace or always going to the same yoga class, doesn't give your body the variety it needs to change and improve.
You need to incorporate periodization (strategic variation) into your training plan to keep your results coming.
"The reason why most people see their results stagnate is that they do the same one or two workouts day after day, week after week, month after month, and even year after year. That's why Beachbody programs include multiple different workouts and don't last longer than 90 minutes." — Thieme
In search of a workout that can help you reach your goals and lead to your dream results?
Head over to Beachbody On Demand for tons of options, including everything from sweat-inducing HIIT workouts to low-impact barre ballet/Pilates workouts to muscle-building strength programs.