A Day in the Life: Sagi Kalev
Ever wondered how the Beast (aka Sagi Kalev) spends his day? Well, we went straight to the source and asked the creator of Body Beast and The Master's Hammer and Chisel. Here's what he had to say.
Alarm rings at 7:00AM. Sagi grabs an 8 oz. glass of water. Room temperature, please.
I wake up a 7am every day. I'm an early riser. I don't believe in the whole motivating myself thing to do anything. It's a matter of being excited and passionate about your life. It's about decision. How are you going to live your day to the fullest?
Breakfast
For breakfast, I have ½ cup of cream of rice cereal, cooked with water and 12 egg whites, with one yolk. I have that with ¼ avocado with salt-free brown rice cakes.
Morning Routine
I have my morning ritual. I wake up, I say my prayers, I go to my desk, I read Marianne Williamson's poem "Our Greatest Fear," and I spend two hours doing my personal development. I listen to whatever I need that day. Once I'm done, I spend two hours connecting with my fans on Facebook.
Every day, I have three "rules" that I have to complete or live by. They are not goals.
To read or to learn something new. Five pages is my minimum.
Help someone that I don't know personally.
Talk to one new person that I don't know.

Sagi with his stylist, Brannon Barrett
Workouts
I'm in the Bulk phase. I did Bulk Shoulders today. On top of that, I added two new moves, one called "The Victory Press." I added 20 minutes of cardio on the step mill, skipping one step to work in order to work on the glutes. During my workout, I wore my Body Beast tank top with my Beast Up cap. You can get them here.
I take Beachbody's pre-workout supplement Energize before the workout. One packet of Hydrate mixed with Creatine during the workout, and for my own needs, I add ⅛ teaspoon pink Himalayan salt.
Additional Meals

I don't snack. I have meals. For lunch, I eat three meals of eight ounces of ground organic chicken with one cup cooked brown rice. I use natural spices like paprika, cilantro, and basil to flavor my food.
Evening
When I come home for the day, my wife and I cook dinner, I put on relaxing music, eat dinner, and relax with her and the dogs. And three to four days per week I use the infrared therapy machine in the house. For dinner, I have a large bowl of mixed leafy greens. I rotate every day between beef, ground chicken, and fish. The dinner below is a combination of beef, chickpeas, spinach, dark leafy greens, and some carrots.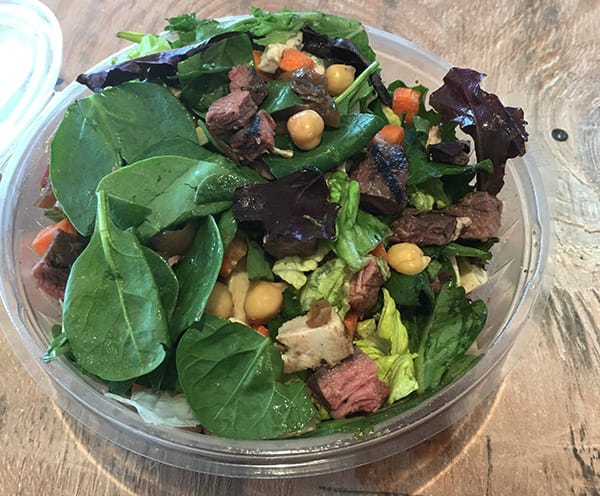 For dessert, I mix one packet of Vanilla Shakeology with one packet of Café Latte. To that, I add 1 cup of low-calorie coconut milk, stevia, ¼ cup of frozen, chopped organic cherries, ¼ cup slivered almonds, ⅛ teaspoon of baking soda, and 1 tablespoon of New Zealand Honey. I put it in the freezer for 10 minutes and that's my dessert for the night.
To Bed: 11:00 PM
I go to bed around 11 and get up around 7, with no alarm clock. My passion wakes me up. For me, it's not about getting eight hours of sleep at night because it's not true. Based on my research, your highest level of recovery happens between 10 PM to 12 AM, then between 12 AM to 4 AM, that's when your organs recover the highest, and between 5 AM to 7 AM, to almost 8 AM, that's when your brain is getting the most recovery.
One rule I do have is that I sleep in complete darkness. The brain gets confused with nighttime and daytime. To get better sleep, turn off your WiFi when you go to sleep and make sure your room is very dark.